I'm a sucker for a romantic comedy! My all time favorite romantic comedy is Pretty Woman with Julia Roberts and Richard Gere! I've probably watched it at least 100 times through the years! Hah! Some of my favorite scenes are the food scenes. The scene where they're watching Lucy stomp the grapes, drinking champagne and eating strawberries while they're laughing at the show is one of my favorite moments. I also love the restaurant scene where she flips the escargot at the waiter. Both are fun moments in the movie! That inspired me to put together some Valentine's Day menu ideas inspired by romantic comedies.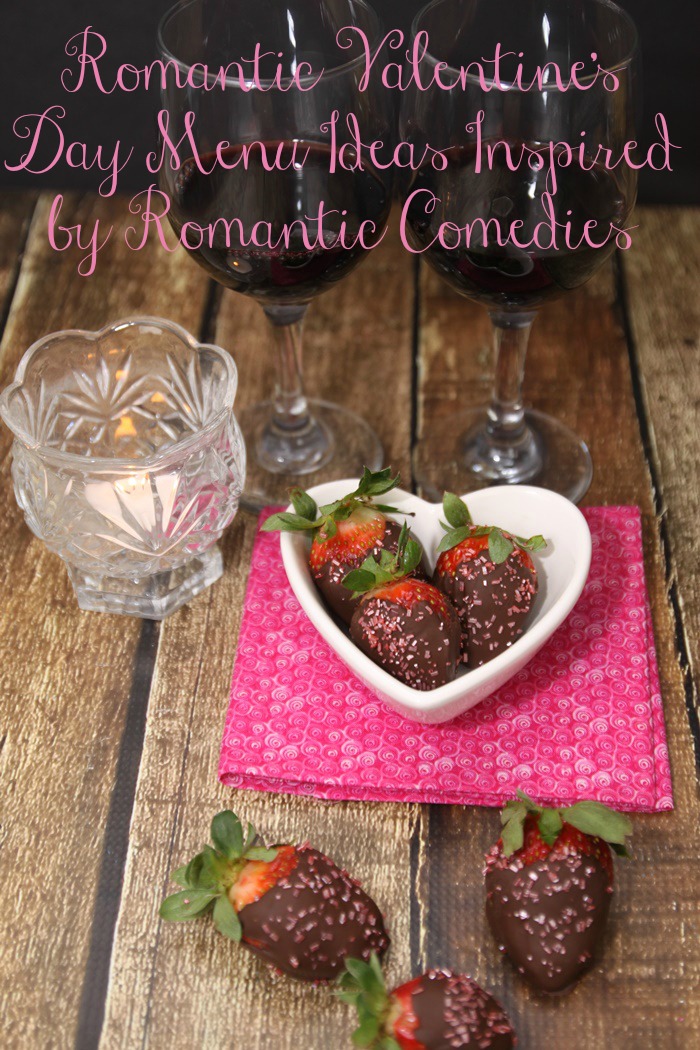 Are you planning a romantic dinner and a movie scene this Valentine's Day? If you would like to woo your sweetie this Valentine's Day here are a few menu ideas inspired by some of my favorite romantic comedies:
Pretty Woman:
Chocolate covered strawberries with wine or champagne
Escargot (they're supposed to be an aphrodisiac!), and ice cream
How to Lose a Guy in 10 Days:
Rack of lamb (from the famous I'm a vegetarian scene)
Sweet Home Alabama
Have a cookout or fry up some southern fried chicken inspired by the movie!
13 Going On 30
Razzles of course! Top cupcakes with them or add them to your favorite dessert!
80s inspired recipes
Grease
Your favorite 50s diner food including hot dogs, fries and a shake!
Sixteen Candles
Bake a birthday, errrr Valentine's Day cake to share with your sweetie.
Maybe some upgraded cafeteria favorites to go with it?
When Harry Met Sally
New York Deli inspired menu starring Reuben Sandwiches with a twist, potato salad, and New York style cheesecake for dessert.
Dirty Dancing
Pretend your dining at Kellerman's and plan a 1960's menu.
Watermelon inspired recipes including cocktails, and dessert ideas.
What's your favorite romantic comedy and what foods inspire you from the movie. Some of my favorite bloggers are sharing their romantic comedy inspirations from travel, to recipes and romantic reading ideas just in time for Valentine's day. Check them out below!
Razzle Red Raspberry Mojito (with or without the alcohol) | The Love Nerds
Best Romantic Comedies | Sugar & Soul
Books to Read If You Like Romantic Comedies | Play. Party. Plan.
Vacation Destinations Inspired by Your Favorite Romantic Comedies | Hey, Let's Make Stuff
Valentine Brownie Truffles | Merlot Mommy