I love to garden! Of course I always have big intentions and big dreams for my garden this time of year! Of course I love any gardening gift! One year for Mother's Day my husband and my son bought me some tomato plants for my garden. It was one of my favorite Mother's Day gifts ever! I thought I'd put together a list of some of my favorite Mother's Day gift ideas for the gardening mom, to help others find that perfect Mother's Day gift for mom.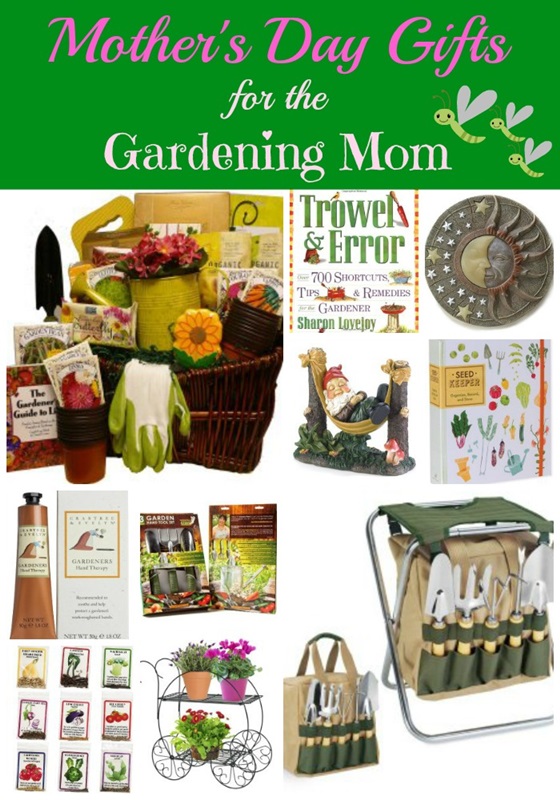 1. Trowel and Error: Over 700 Tips, Remedies and Shortcuts for the Gardener ~ I love to curl up with a good book, and this time of year a good gardening how to book is the perfect read for a sunny afternoon!
2. The Gourmet Gardener Gift Basket of Useful Garden Tools and Treats ~ What gardening mom wouldn't love this gift basket? You don't even have to guess, it's all put together for you in a fabulous basket!
3. Seed Keeper: Organize, Record, and Store Journal~ I love this idea! I always have seeds spread out everywhere from year to year, then I have to sort through them in the spring to see what is still good.
4. Picnic Time Gardener Folding Chair with Tools~ Since I'm getting a little older these days, my garden knees aren't what they used to be! I would love to have this cute stool, and all of these great garden tools! They would make a fab Mother's Day gift idea!
5. Crabtree & Evelyn Gardeners Hand Therapy Lotion~ Does your mom get gardening hands from all that digging in the dirt? Help her pamper herself this Mother's Day with this hand therapy lotion.

6. 12 Heirloom Varieties of Vegetable Seeds~ OK, every gardening mom would love to have more seeds for her garden! This one's a given!

7. Ergonomic 3-piece Garden Tool Set~ Because a gardener always needs more good tools! The bonus is these are even ergonomic!

8. CobraCo Two Tiered Garden Cart~I love this! It would look fabulous on a front porch or a deck to display mom's favorite potted plants all summer long. You can also bring it in during the colder months and put it in front of a sunny window!

9. Celestial Glow in The Dark Step Stone~ This would look great in any garden or border!

10. Slumbering Gnome Garden Statue $18.81~ So cute for a gnome garden, or just because!
These are 10 Mother's Day gift ideas for the garden I would love to get! Do you have any favorites you'd like to add?