I have a confession! I LOVE Christmas movies! I'm so excited when the holiday season rolls around so I can curl up on the couch and catch up on all my holiday favorites. I don't know about where you live, but here in Ohio it's been cold and snowy already this year, and it's not even December yet! A romantic holiday movies makes a great way to spend a cold night in. Cuddle up in front of the television with popcorn, hot cocoa, and your honey to enjoy any of the twenty hit movies listed below!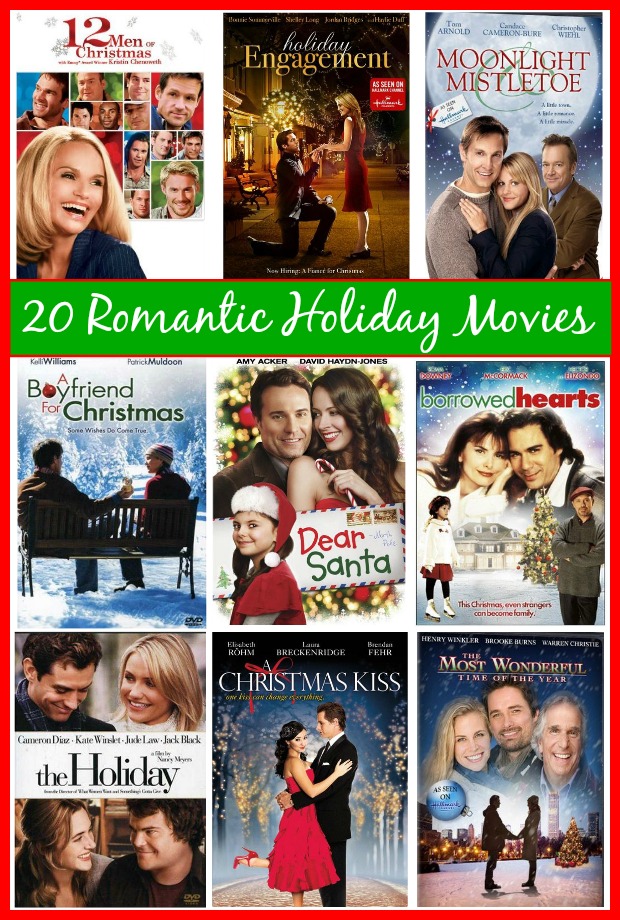 1. A Christmas Kiss~ Wendy's life gets complicated when she has a moment in the elevator with her bosses boyfriend.
2. Four Christmases~ I love this Reese Witherspoon Christmas classic! It will have you laughing from start to finish!
3. The Holiday~ Two women in two different countries swap houses around the holidays.
4. Christmas Lodge~ This Thomas Kinkade movie is a definite classic.
5. 12 Men of Christmas~ EJ loses her job and her fiance all in one night. She retreats to a small town called Kalispell and comes up with an idea to create a Christmas calendar to help the area search and rescue.
6. Moonlight & Mistletoe~ A fun holiday tale of a father and daughter who try to save Christmas.
7. Hitched for the Holidays~ Rob and Julie team up to get their families of their backs by convincing them they're a couple at Christmas time.
8. A Boyfriend for Christmas~ 12 year old Holly asks Santa for a boyfriend for Christmas. Santa fulfills her wish 20 years later when she's all grown up.
9. Holiday in Handcuffs~ I love this movie! When a young woman's fiance dumps her right before she's supposed to take him home to meet her controlling parents she has to improvise..
10. Christmas in Boston~2 penpals meet when they're all grown up.
11. Holiday Engagement~ When Hillary's fiance breaks up with her she decides to come up with another by hiring one online.
12. The Most Wonderful Time of the Year~ Find out what happens when you open your heart to the magic of Christmas.
13. The Christmas Card~ A Christmas card gives a soldier a reason to survive.
14. Borrowed Hearts~ Sam pretends a single mother and her daughter are his family during the holidays to woo a client who's business he's trying to buy.
15. A Christmas Proposal~ A fun holiday movie of rekindled flames for the holidays.
16. The Family Stone~ When the Stone family throws a holiday gathering filled with unexpected surprises, love affairs unravel, new ones form, and some secrets are revealed.
17. Christmas in the Clouds~ A group at a Native American-owned ski lodge is hoping for plenty of snow and a little good publicity to keep the lodge in business.
18. Dear Santa~ Crystal, a spoiled rich party girl, finds a little girl's letter to Santa asking for a new mom and decides to take things into her own hands.
19. I'll Be Home for Christmas~ A widowed surgeon and his daughter return home to St. Nicholas.
20. A Holiday for Love~ Will the spirit of Christmas triumph over corporate greed?
What's your favorite romantic holiday Christmas movie?