I love dance workouts, like Zumba. I go to class several times a week, but when I'm at home I like to workout too. That's when I look to YouTube to find my favorite songs and dance moves to workout to. Right now here is my favorite 30 minute dance workout. I don't claim to have the rights to any of these videos, or or to the music! I just want to put together a few of my favorites to share with you. I try to find the most reputable studios I can find on YouTube to share from.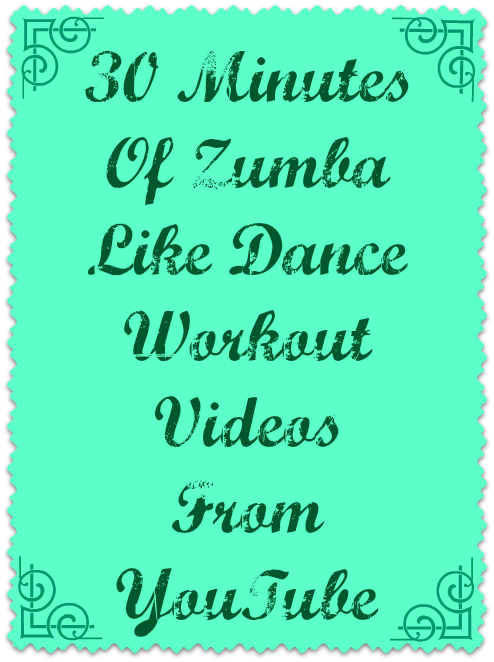 I put these together into one post just as much to be able to find them and run down through the list one right after the other as I did to share them with others so they can do the same Zumba dance workout if they'd like. I just skip over the commercials and usually any intros, and get right to the music!
This has been great for me this winter! I get really bored walking on the treadmill, and it seems like we get a new snowstorm at least once a week, usually when I'm heading out to my Zumba class on Tuesday or Thursday night! This routine I can run through at home in about 30 minutes, or even break it up a little more to fit my time frame.
Bruno Mars is of course one of my favorites right now and Treasure is perfect for warming up to some faster moves, and did I mention Bruno Mars?
Dance Workout Warmup~ Bruno Mars- Treasure
Dance Workout ~ Ke$ha and Pitbull -Timber
Dance Workout~ Britney Spears -Work B@#ch (clean version)- This song has a great message for anyone (like me) who has to work hard to keep their weight under control! You gotta work b@#ch! 🙂
Dance Workout ~ One Republic – Counting Stars
Dance Workout~ Macklemore – White Walls ~ One of my new favorite songs! I could only find this one workout with it, but it is a fun one!
Dance Workout Cool Down ~ Katie Perry – Roar
Dance Workout Stretch ~ Lorde- Royals