When it comes to fall, everyday is the perfect day for pie. The harvest is in and there are so many pie combinations to try out this year. Whether you are making a traditional pie, a signature pie or giving something new a try, there are plenty of tools for pie making out there that can make the job a lot easier.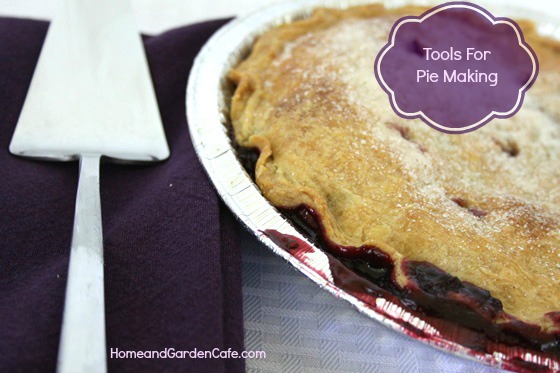 Rolling pins and pie dishes are tools of the trade, and absolutely necessary to get the job done. The following pie making tools make the entire process go faster, easier and help you serve up the best looking piece of pie possible.
Mrs. Anderson's Baking Pie Crust Bag
Even the most experienced pie maker doesn't always have perfect crusts come out when they free roll and eyeball their pie crust. Pie mats and boards are nice too, and up until now they have been the go to tool to get the perfect sized crust, but even a pie mat has its design flaws when you are rolling. The pie crust bag is the smartest option because you basically plop your dough into the bag, roll it out and you cannot mess up the result- a perfectly shaped pie crust.

Le Creuset Pie Bird
PIe birds have been around forever, but improvements to the conventional oven have taken away most of the need for them. I say most because pies still bubble over and crusts still puff up unevenly. The pie bird is a cute version of the standard vent or steam funnel, and it is a conversation starter when you are serving your pie up for guests. Le Crueset has a whole line of pie birds in all their signature colors.

WinWare 10 Cut Pie and Cake Marker
I used to be a fan of the pie dam, because it kept my pie filling where it needed to stay and helped keep the shape of my pie. Then I was introduced to the pie marker and I found that this two in one pie making tool was the better option. This easy to use tool ensures that everyone gets the same size piece on their plate and because you can leave it in place it also serves as a total pie dam.

Talisman Adjustable Pie Shield
The filling in a pie is great, but some might argue that the crust is even better. Nobody likes a burnt crust either, so make sure yours is lightly toasted and flaky when it comes out of the oven. The Talisman is adjustable too, so you can use it on any size pie from 8" to 11 ½". Even better, the silicone material is a cinch to wash, in or out of the dishwasher.
Ceramic Pie Weights
Don't give up on crusts that need to be made ahead of time, or start buying pie crusts because your blind baked crusts haven't turned out well. There is a simple solution to bubbling or misshapen pie crusts and it rests in simple ceramic weights that are oven safe. Ceramic pie weights keep baking crusts in place and mimic pie filling to ensure that bubbles and air pockets do not form.