Valentine's Day is coming up quickly, and like most people you may have a handful of colorful valentines (or you will have next weekend). Before you toss them into the trash or recycling, take a look below at these 7 uses for old valentines. You might be surprised to see that old valentines have a few fun and frugal uses long even after the holiday is over. Here is how you can get started!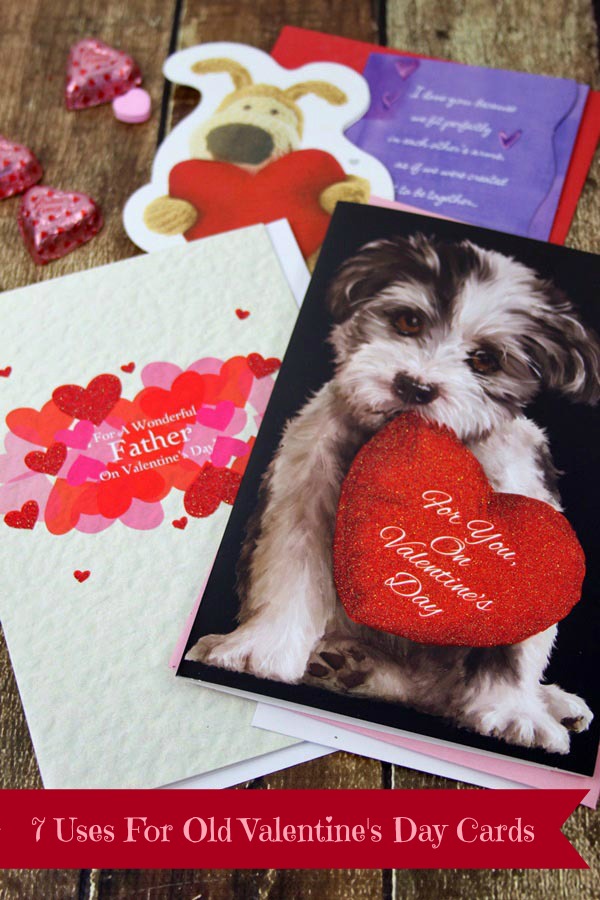 1. Use old Valentines in scrapbook pages.
Cut out the fun shapes and characters on the valentines and use them in your scrapbooking. They will work great and make your pages pop with color!
2. Make a Valentine's Day bunting banner.
Cut the valentines into triangles and glue them onto a length of ribbon. You now have a Valentine's Day bunting banner for pennies. Place it somewhere safe and use it next year when the holiday comes around again.
3. Make year round love notes.
Cut out the hearts and other sweet illustrations on the valentines and use them as year round love memos. Stick them in your child's lunch or spouses work bag so they can have an instant pick me up when they find it.
4. Make your own fire starters.
Roll the valentines into a tube shape and stuff the inside with dryer lint. Place the rolls in a basket and grab one each time you need to start a fire. They will look sweet displayed and yet they are a practical way to get a fire roaring.
5. Make a sweet ornament.
Shred the valentines and then stuff the shreds into a clear ornament. The colors will look beautiful showing through the glass. Label the ornament with the year so you can recall when you received them. Display the ornament year round or on your tree at Christmas.
6. Use them as bookmarks.
Valentines make colorful and practical bookmarks. Use them to mark the pages of your novels, cookbooks, and more. If you want, you can even punch a hole in the valentine and run ribbon through for some extra flare.
7. Use old Valentines for decoupage.
Cut out the graphics and wording you like and use them in decoupage projects. You can apply them to jars, plates, pictures, and more.
Don't toss those old valentines! Give these choices a try instead and see how fun they can be to repurpose.
Looking for more Valentine's Day Inspiration? Check out these Two Lovely Heart Plants for Valentine's Day.