This weekend we made chocolate covered strawberries, with Lily's Dark Chocolate, which is lower in net carbs than most chocolate. As far as fruits go, the berries are lower carb then most of the other fruits. Now you still can't eat a bunch of them, but for a special sweet treat, like a romantic dinner for 2, one or two of these low-carb dark chocolate covered strawberries made with Lily's Dark or Keto Chocolate will really hit the spot! They're also PERFECT for Valentine's Day for your sweetheart who may be watching the carbs! We had a whole low carb romantic dinner, which I'll be sharing over the next couple days!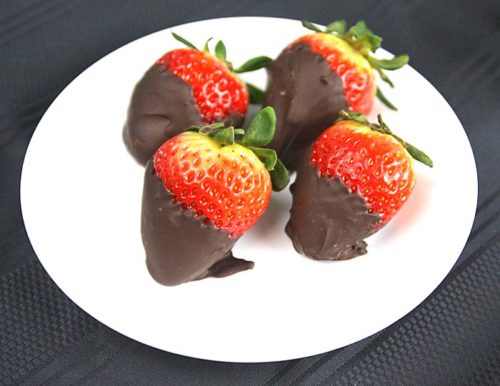 I used Lily's Dark Chocolate Baking Chips, but you could also use the dark chocolate bars.  Here's the link to their Lily's baking chips on Amazon (I may make a commission if you make a purchase, but I only recommend products I use and love), but I've also found them at our local Meijer and Kroger grocery stores (and you don't have to buy 3). They have a KETO version of these too, I found them at Whole Foods!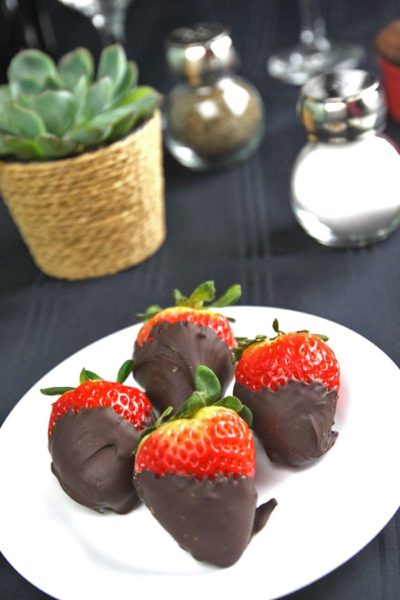 Here's the recipe for Low Carb Chocolate Covered Strawberries
Please note: You can still only have 1 or 2, not the whole container in one sitting!
Low-Carb Chocolate Covered Strawberries
Ingredients
1

Pint

Strawberries

1/2

bag Lily's Dark Chocolate Chips

or Lily's Keto Chocolate Chips if you can find them

Parchment Paper
Instructions
Melt the chocolate in a medium bowl by cooking in the microwave at 30 second intervals until melted. Stirring with a spoon in between each 30 second interval.

While the chocolate is till warm, dip the strawberries one at a time into the chocolate, and swirl around so about 1/2 to 3/4 of the berry is covered with chocolate.

Set each chocolate covered strawberry on the parchment paper to cool and dry as you finish dipping them. It will take them about 30 minutes or so to cool and harden.
This is a quick and easy recipe! Only 2 ingredients, hah! But they're oh so delicious! You can use this idea for other berries too! I've made chocolate covered blueberries and chocolate covered raspberries this way! All turned out delicious, and hit the spot when I was craving a little chocolate, or for a bite of sweet for a romantic date night!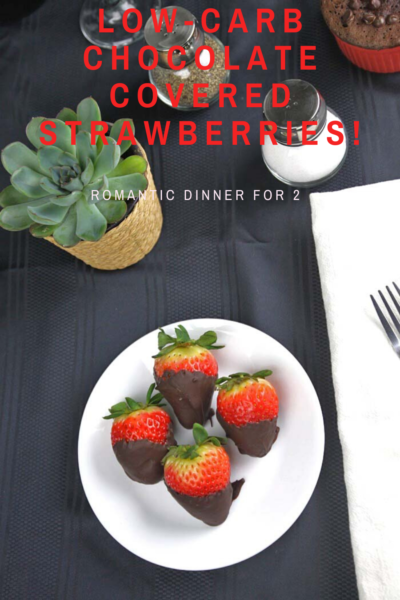 Looking for more recipes? Check out this recipe for low carb white chocolate covered berries. So romantic!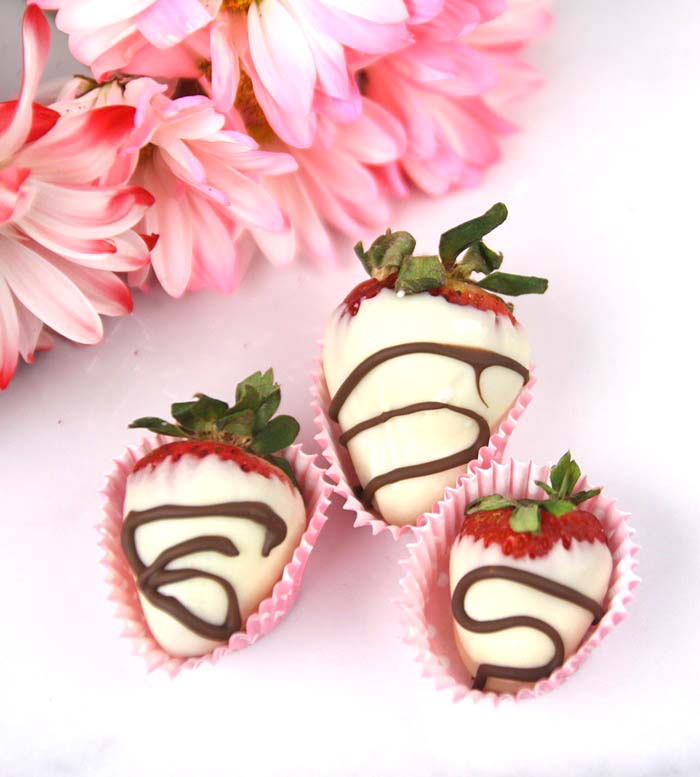 Or check out this low-carb raspberry smoothie!