Can you believe it's September already? The summer flew by here! With fall coming up quick; you might be wondering how you can add a splash of color without having to re do your whole décor (or spend a fortune). Luckily, there are plenty of ways to add a splash of color without doing a lot or spending a lot. Take a peek below at 7 ways to add fall color to your home décor so you can enjoy a space that is warm, cozy, and inviting. It is easier than you may think!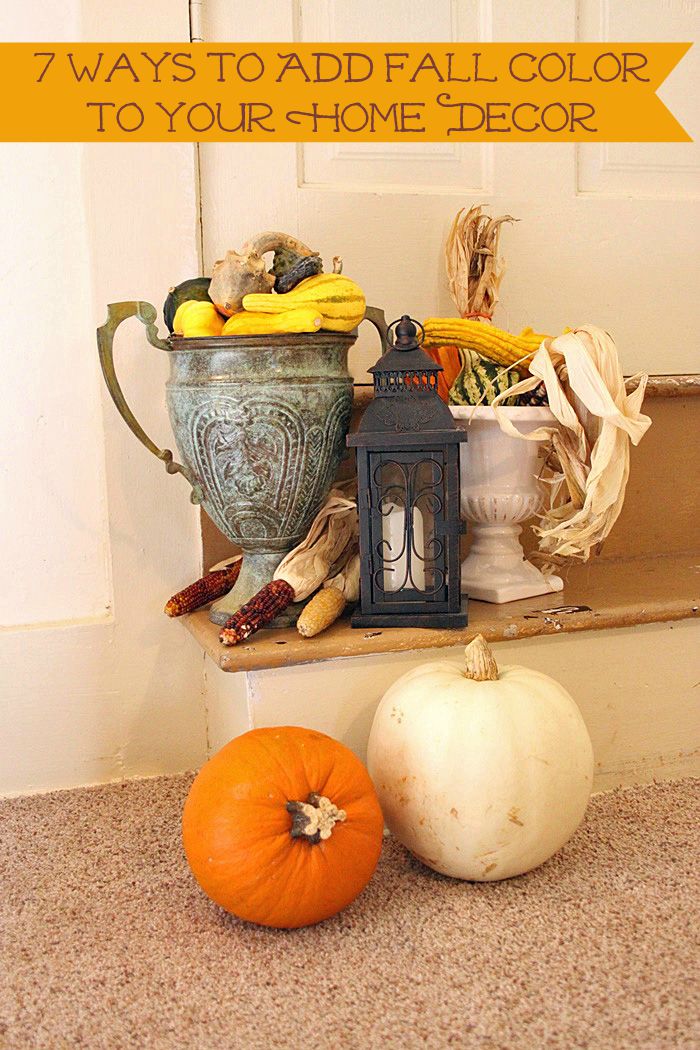 1. Add some throw pillows.
You can find assorted throw pillows for under $20 a pop, making them perfect for adding a splash of fall color for less. Add a few deep hued throw pillow to your beds, couches, and arm chairs for some quick color.
2. Consider a throw blanket.
The weather tends to get chilly in the fall, so having a throw blanket on hand is quite practical. Choose a fall color such as rustic red, orange, or gold to add some color while serving a purpose at the same time.
3. Try bringing some nature indoors.
This is my favorite! Go outside and see which natural materials you can bring indoors for a pop of color. This can include interesting twigs and branches, pine cones, acorns, and dried flowers. All of these items look great arranged in a wooden bowl or pottery vase.
4. Replace your frames.
Switching your frames out is an easy way to give photos a new and richer look. Opt for some dark wood frames or frames that show off fall colors like red, gold, or auburn. You will be amazed at how much color you can add to your space but just changing out frames.
5. Add some wall art.
Head to your local craft store for some peel and stick wall decals. You can opt for rich autumn colors, leaves, nature themed pieces, or anything else that makes you feel fall. These are easy to adhere to your walls and can come down when the season is over.
6. Try a new throw rug.
For under $50 you can find a colorful throw rug perfect for hallways, entry ways, or even sitting spaces. They are a great way to add color to a space and add some interest even to your floors. When the season is over, just roll them up and store them until next year.
7. Consider candles.
Candles are a great way to bring the sights and smells of fall indoors. Choose from autumn scents such as pear, apple, cinnamon, or even pine. The candles are sure to make your space smell great as well as add some ambiance.
If you are looking for simple ways to bring the feel of fall indoors, give these 7 simple tips a try. Bringing the feel and colors of fall into your decorating has never been easier.