Cleaning is never fun, it's one of my least favorite things to do! Many cleaners make me sneeze and cough. I can't handle the fumes and harsh chemicals in them. I'm always looking for alternative cleaning methods that work. I have to admit I've found some interesting ways you can clean with mayonnaise.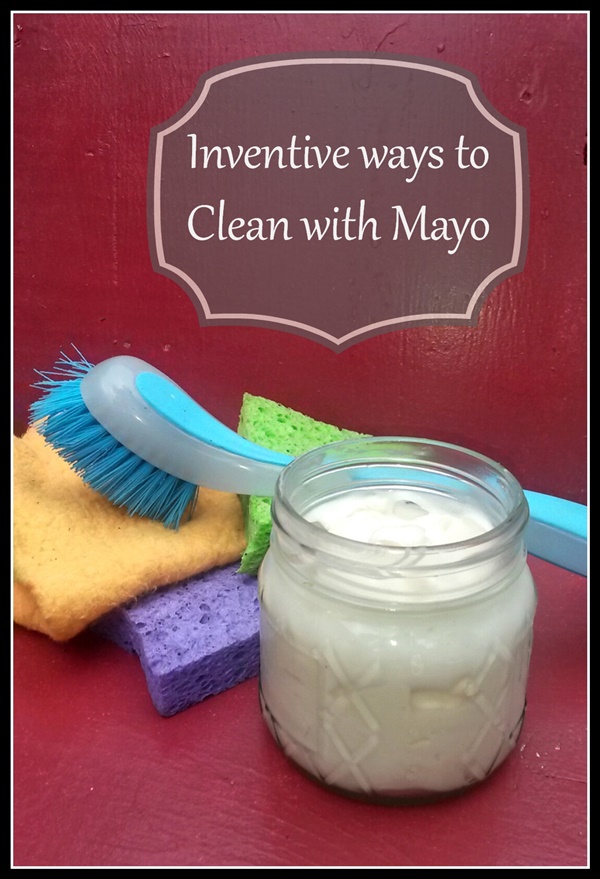 1. Do you have children that have played with stickers and stuck them around the house where they shouldn't like on the mirror?  They are a pain to get off.  Try this for some quick removal.  Rub mayo over the sticker and allow it to sit for a few minutes.  Then gently peel the sticker up.  This also works well on bumper stickers on your car.
2. Speaking of cars you can use mayo to clean off that nasty tar.  Allow the mayo to sit on the tar for about 15 minutes then rub it off.
3. Want to shine up all those house plants?  Take a paper towel and rub just a tiny bit of mayo on the leaves it will make them shine for weeks at a time.
4. Sometimes when kids color they miss the paper and color on the table..or they get a little wild and color on the walls.  Clean it up easily by rubbing some mayo onto the crayon marks.  Let it sit for about 5 minutes then wipe off the mayo along with the crayon mark.
5. Clean yellowing piano keys with some mayo.  All you need to do is apply the mayo to the keys with a soft cloth.  Allow it to sit for 2 to 5 minutes then with a clean soft cloth wipe it off.  The piano keys should be a nice pretty white again.
6. Loosen and pick up dust, dirt and grime from floor cracks or light switches with a little bit of mayo.  Just put on a little mayo and wait a minute or two then clean it off with a soft clean cloth.  If the spots are narrow try using a toothbrush to help clean and remove the dirt.
7. Vegetable oil is one of the main ingredients in mayo and when it is added to the other ingredients it makes an successful treatment for water marks on wood.  Just spread some mayo on the water mark area and let it sit for a few minutes.  Then wipe it off with a clean rag.  
8. Are your stainless steel appliances covered in fingerprints?  Try covering the prints with a thin layer of mayo, then use a dry clean cloth to wipe away the mayo and the fingerprints.
Who would have ever thought the condiment that goes great on a BLT sandwich would be able to do so much around the house.