My sister makes the most fan-tabulous hash brown and cheese casserole! It's super simple to make, just combine everything into one casserole dish and pop it in the oven, set the timer and you're done.
Sometimes I add a little ham, but usually I make it just like the recipe below. It's wonderful during the summer if you're grilling out, just make the casserole ahead and pop it in the oven about 1 1/2 to 2 hours before you plan to eat.
Cheesy Hash Brown Casserole Recipe
1 bag of hash browns (small squares, or shredded)
8 oz of shredded cheddar cheese (2 cups)
1 can of cream of mushroom soup
2 cups (1 container) sour cream
1/2 cup shredded Parmesan cheese
Preheat you oven to 425`F. Mix all the ingredients together in a large bowl, reserve 1 cup of the shredded cheddar cheese. Put the mixture in a large casserole, or baking pan, then sprinkle the last cup of shredded cheddar over the top.
Cover with aluminum foil and bake for one hour. Remove the foil and bake for 30 more minutes, or until the potatoes are soft, and the cheese is bubbly.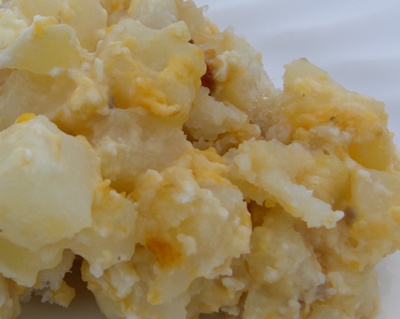 These potatoes are even better the next day as leftovers reheated for breakfast!