Cherries are one of my all time favorite fruits, so of course when cherry season comes around I want to preserve the harvest! This cherry preserves recipe helps me do just that so I can enjoy the delicious cherry flavor all year round. Cherry preserves make great toppings for ice cream, toast, or even pancakes and waffles. I also like to add mine into homemade ice cream!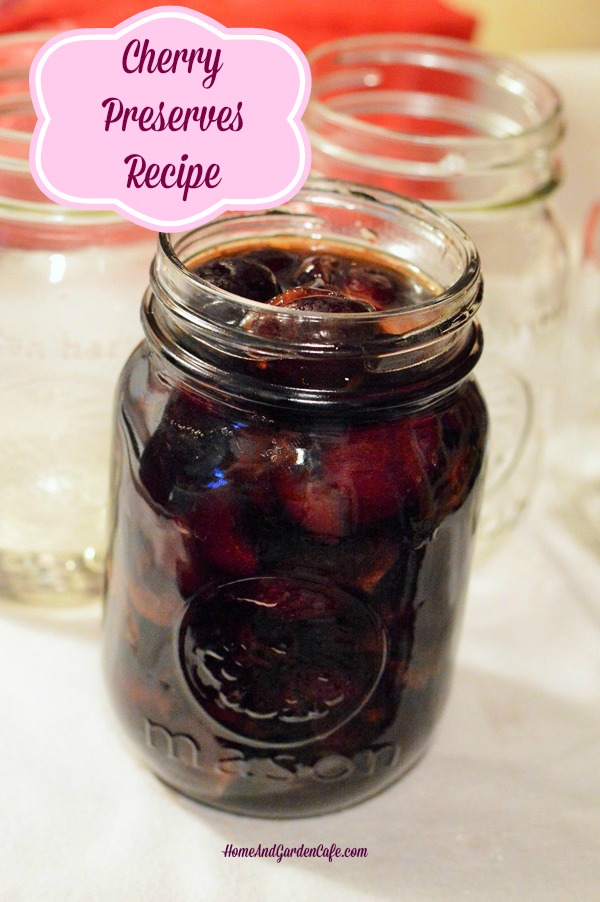 Cherry Preserves Recipe
Ingredients
2

lbs

cherries

4

cups

sugar

water

4

half-pint jars

lids, and rings
Instructions
Wash cherries and remove stems. Pit the cherries using a cherry pitter or lightly pressing with the flat edge of a knife.

Drain the juice and pour into saucepan. Add sugar. If there isn't enough juice to dissolve the sugar, add a bit of water. Cook over medium heat until sugar dissolves. Add the cherries and boil until cherries become translucent.

Remove from heat and allow to cool. Refrigerate overnight.

Wash jars, lids, and rings with warm, soapy water. Fill a water bath canner with water, and place clean jars inside. Bring to a simmer and let stand until you are ready to fill the jars. Fill a small saucepan with water and place the lids inside. Allow to simmer until you are ready to use.

Pour cherries back into saucepan and bring to a rapid boil. Boil for 1 minute and remove from heat. Ladle into hot jars, leaving ¼" headspace. Clean rims with a warm, damp cloth. Affix lids and rings to the jars.

Place jars in water bath canner and bring to a boil. Process for 15 minutes.
What do you preserve this time of year? I also love to dry fruit in the dehydrator, and I usually can or freeze some tomato juice for fall and winter soups and chilis.