This is a meal I throw together quite a bit. I'm not a big fan of pre-made pasta sauces, they're too sweet and loaded with sodium, so I have a couple recipes to make my own. This is one of them. The recipe isn't exact (especially the spices), I just tend to throw things in until it tastes right. I also like to go light on the pasta, and heavier on the veggies and protein. If you want more pasta, and less chicken/sauce, use a whole 1 lb box of pasta.
This is a fairly healthy meal even my son will eat. He picks at the vegetables a little, but will eat most of it and even ask for seconds.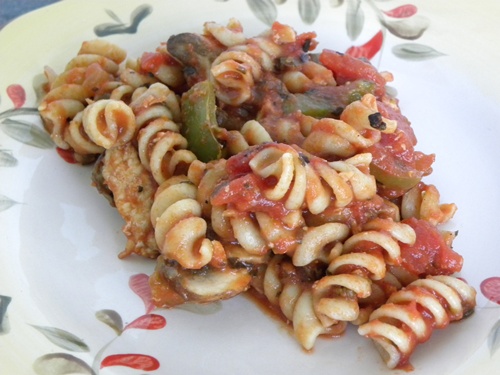 Chicken Rotini With Fire Roasted Tomato Sauce
Ingredients:
1 lb boneless skinless chicken breasts
1-2 tablespoons olive oil (I used Carapelli)
8-10 ounces whole wheat Rotini
1~ 14.5 ounce can Muir Glen Fire Roasted Diced Tomatoes
1~ 15-16 ounce can tomato sauce
1 small container fresh button or baby bella mushrooms-sliced
1 green pepper diced
1 small or 1/2 medium onion diced
1 teaspoon garlic powder
1 teaspoon (or to taste) oregano
1 teaspoon (or to taste) basil
pinch of sea salt (1/4 teaspoon or to taste)
Optional: shredded mozzarella or Parmesan to sprinkle on top
Directions:
Dice the chicken into bite size pieces, and add it to a saute pan heated on medium heat with 1-2 tablespoons of olive oil.
Boil water, and add pasta to cook according to package directions.
When the chicken starts to brown add the vegetables (peppers, onion, mushrooms), and saute lightly until the chicken is finished cooking and the vegetables start to turn tender.
Add the fire roasted tomatoes, tomato sauce, garlic, oregano, basil, and salt to the chicken and vegetables, and turn down to a low simmer for 10-15 minutes.
Add the pasta and toss together, or serve with the sauce poured over the pasta.
Sprinkle with cheese.
This is a very easy dinner, and with a little pre-planning it's usually ready in 30 minutes or less.