If you're trying to stay closer to nature, and stay away from processed foods this Valentine's Day, I have a yummy recipe for homemade chocolates to share with you today. I promise you these are even more rich and satisfying than the high dollar chocolates you can buy at the store. They are melt in your mouth bites of rich dark chocolate, and they're super easy to make.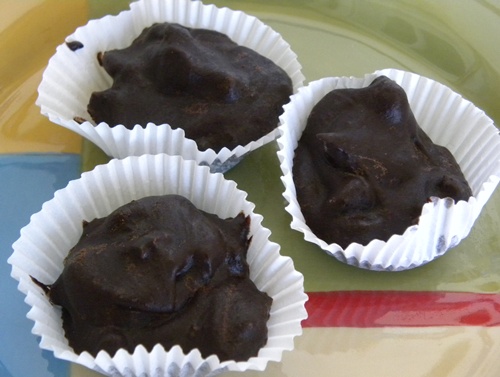 If you don't have raw cacao, you can substitute cocoa powder. You can find cacao powder at many specialty food stores, and health food stores, and online at Amazon here: Raw Cacao
. It's expensive, but one bag goes a long way! These chocolates aren't cheap, but they are decadent. Definitely something that hits the spot!
I used the recipe from Love Veggies and Yoga here: Raw Vegan Coconut Oil Chocolate (I'm an Averie fan, love her recipes and photos). I changed it a bit, since I'm not a vegan, and I'm not a fan of Agave. To me it leaves an aftertaste. It also makes my brain feel fuzzy, and I don't need my brain to feel any fuzzier than it already does! So I used maple syrup instead. I think you could also use honey for the sweetener. Whatever you prefer. I was worried the chocolates would freeze too hard with the maple syrup, but it wasn't a problem.
I doubled the original recipe below, that was perfect for a couple chocolates to eat now, and a few to save for later.
Homemade Chocolates
Ingredients:
2 Tbsp of Coconut Oil
3 Tbsp Maple Syrup or Agave
1/2 tsp of vanilla extract
4 Tbsp Raw Cacao or Cocoa Powder
Optional: small handful of walnuts or your favorite nuts or
Optional: Make up a mixture of 1 tablespoon of peanut butter, with 1/2 tablespoon of honey to put in the center for "peanut butter cups"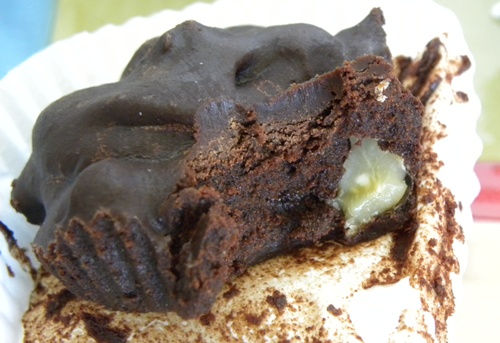 Directions:
Melt the coconut oil in a saucepan on the stove for just a few minutes, until it's just turning to liquid.
Add the maple syrup, vanilla, and cocoa powder and stir them all together.
You can pour the mixture into small candy cups, or mix in your favorite nuts or dried fruit before you pour the chocolates.
You can also make up the peanut butter mixture above, and pour a little chocolate into the candy cup, then put a small teaspoon of peanut butter, with a little more chocolate over the top.
Place the chocolates in the freezer for about 20 to 30 minutes, or until you're ready to eat them.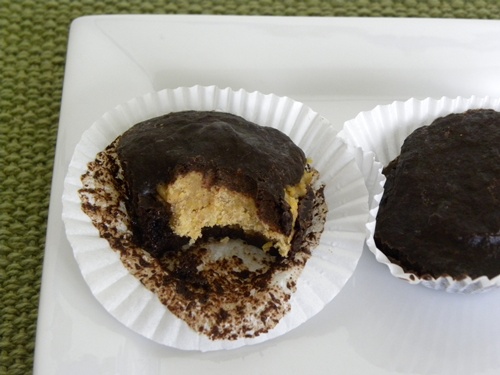 I store my chocolates in the freezer until I'm ready to eat them. They don't get too hard, but if you remember the flavor of  a frozen candy bar on a hot summer day, they'll remind you a little of that.
You can also leave your chocolate in one bar, and wrap it with plastic wrap like the original recipe, then cut it into chunks once it's frozen.
This would be a great recipe to make some homemade chocolates for your sweetie for Valentine's Day. Nothing says I love you like homemade chocolate! Yum!