Do you love displaying fresh greenery in your home during the holiday season? Not only does it look great, but it smells wonderful too. If so, you might be wondering how to keep your holiday greenery fresher, longer. Take a peek below at some helpful tips on how to keep your holiday greenery fresh. When you give these tips a try, you can keep those fresh wreaths and pine swags looking great well into the New Year!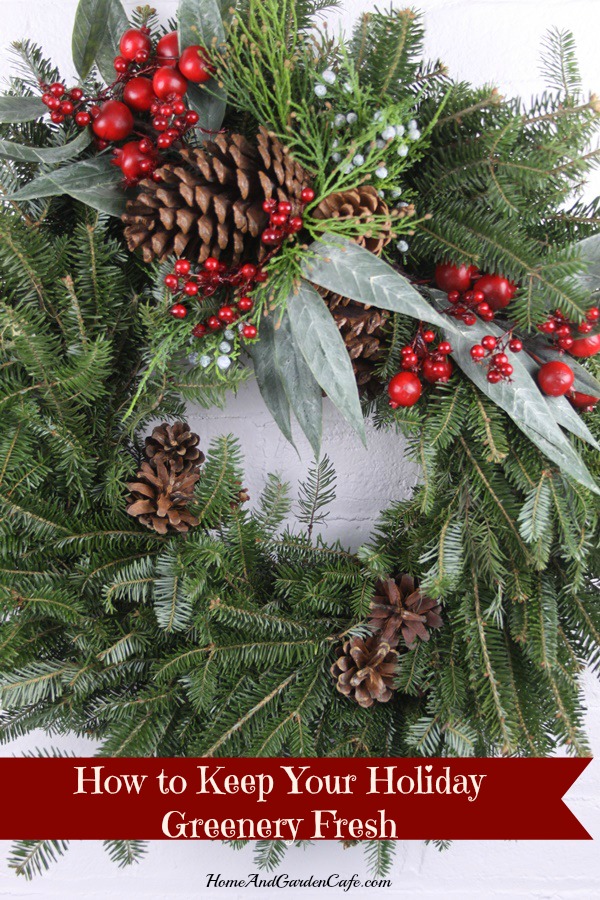 Before we begin, know that you can use these techniques on holiday greenery such as boxwood, pine, spruce, mistletoe.
Tip 1:
When you get your greenery, recut the stems with a sharp pair of scissors. Cut at an angle. You only need to do this step with loose greenery. You don't have to do any cutting with wreaths.
Tip 2:
Soak the greenery in water overnight. A large bucket or barrel is perfect for this. If you wish, you can even use your bathtub. Use cool temperature water, and just submerge the greenery. This step should be done with both fresh cut greenery and wreaths.
Tip 3:
For vase arrangements, add some glycerin. Found at most grocery and retail stores, glycerin is great for feeding the greenery and keeping it fresh. Use 1 part glycerin to 1 part water. Change your water every 5 days and replace with a fresh mixture.
Tip 4:
For non vase arrangements such as boughs and wreaths, you will want to spray the greenery regularly. There are several ways you can do this. You can make the same glycerin/water mixture as mentioned above, or, you can but what is called an anti transpirant from your local garden center. Keep in a marked spray bottle and mist the greenery every few days.
Tip 5:
Avoid heat. Don't hang boughs or wreaths near heat vents as that will only cause them to dry out and die quicker. Keep them in cooler spots in the house away from heat sources.
Are you ready to enjoy fresh greenery all season long? When you give these tips for how to keep your holiday greenery fresh a try, you can do exactly that. See what a difference they can make for you.