We got a new wood burning stove last fall. I'm a person who is really cold, all winter long. I've really enjoyed the extra heat the stove puts out. It's also been a huge savings to our heating bill, since we have 12 acres of woods behind our house and the wood from fallen down trees is free.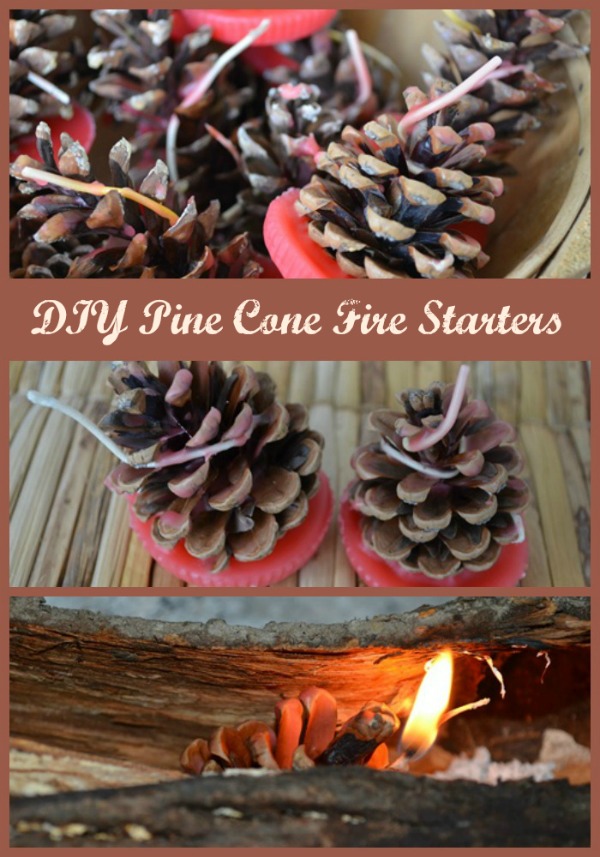 I hated to purchase fire starting packs and logs when I knew there had to be a way to start the fire cheaper, and still make it easy. Shortly after we got our wood stove I saw some really cute pine cone fire starters at a Christmas craft show I went to, then someplace I saw an article where someone else had made them. I knew I could make them myself, and for a lot less money than it would cost to buy them.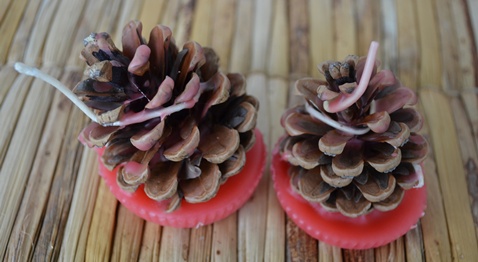 I've made them several times since, and I've never really used an exact recipe. I just use some pine cones from our back yard, some old candle wicks I had laying around my craft area, and wax from old votive and pillar candles we've never burned. Here's an approximate a recipe:
Pine Cone Fire Starters:
12-16 pine cones
1 pillar candle, or about 6 votives
4-6 inch wicks one for each pine cone
paper muffin cups
muffin tin (I've been using an old tin I was going to throw out.)
Directions:
1. Melt the wax in a double boiler, if you don't have a double boiler you can make your own with 2 pans (one larger, one smaller), or a pan and a jar. Caution: Be careful and stay right with the wax when you're melting it.  Wax is extremely flammable!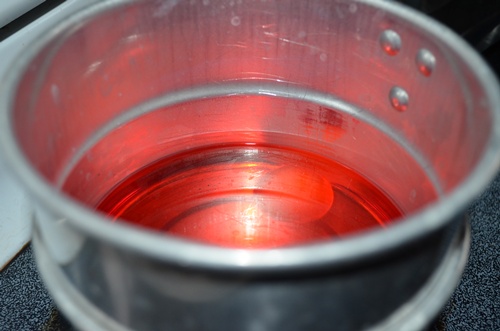 2.Wrap each pine cone with a wick so one end is sticking up at the top like a little pine cone candle.
3. Place the muffin papers in the muffin tin. Set one pine cone with the wick side up in each muffin cup. I sat longer pine cones at an angle in the cups.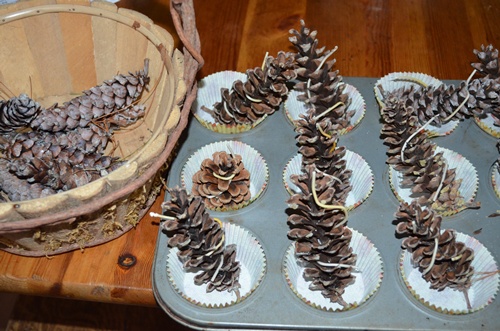 4. Drizzle the melted wax over the pine cones. I use about 3-4 tablespoons per pine cone.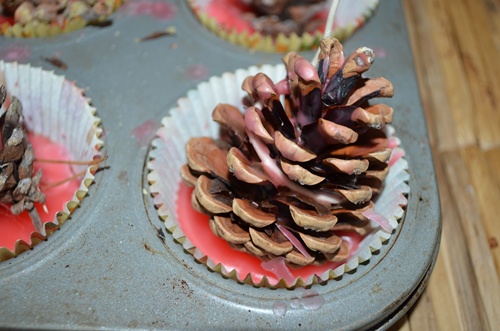 5. Set the pine cones aside to cool and harden, then remove them from the paper.
I like to keep mine in a basket a little ways from our wood burning stove, so they're handy to grab one when I want to start a fire.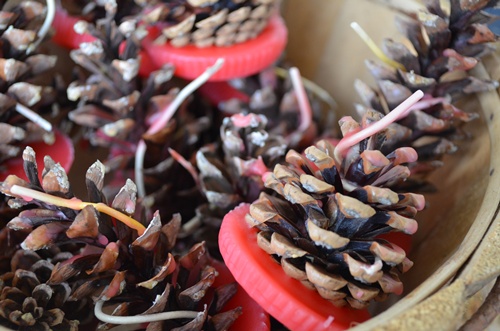 When it's time to start a fire, I grab a pine cone, some small sticks or chips of bark and wood, and a long match or one of those long lighters. I make a little teepee around the pine cone with the sticks and bark, then I light the wick on fire.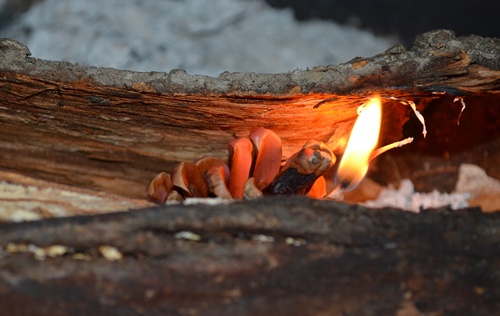 The pine cone fire starters usually work like a dream. Once in a while when it's really damp out it takes a little more effort to get things going, but eventually the fire takes off. These would also be great for a summer campfire, or as a gift either bundled in a gift basket, or in a cute little gift bag.