We moved into our house over 13 years ago. When we moved in the kitchen desperately needed a remodel! Today it very desperately STILL needs a remodel. We're finally hoping to get that accomplished this spring! I've been looking at some different ideas online and off, and there are a few kitchen remodel ideas out there I've fallen in love with! I'm hoping to use some of them as inspiration for my own kitchen redesign.
I'm really leaning toward a rustic kitchen, so I thought I'd share a little inspiration today with all of you.
First up, I love this rustic barn siding island. I showed this photo to my brother in law, and he told me it's totally doable! Yay! We even have the barn siding from an old barn we're going to tear down. This photo is from Country Living, you can go there to see more images from this kitchen design.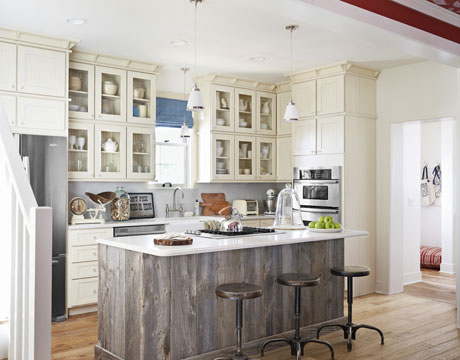 If I didn't go with an island, I would go with this rustic wood block table I found on Pinterest.
I adore everything about this rustic kitchen, especially the wood floors!
I have even more rustic kitchen ideas on my Kitchen Ideas Pinterest Board if you want to check them out! I've been pinning everything I find!
I'll be back to share more of our kitchen remodel over the next few months.