I actually made this soup on New Year's Day, but I'm a little slow to get it posted here! I've had the photos ready to edit for several days, and finally got that done late last night. I've been doing quite a bit of healthy cooking for the new year, so I'll have more recipes to share over the next couple weeks.
According to southern tradition black eyed peas should be eaten on New Year's Day for luck and prosperity throughout the year ahead. I'm not from the south, but I'll give it a try. I could always use a little luck and prosperity in my life.
We also had some sauerkraut, and my husband and son had pork chops. I can't eat pork, it makes my heart race for days after I eat it (scary). I did have some raw kraut though, and it was delicious!
The soup turned out pretty great too, I just adapted my white chili recipe a little, and tweaked the ingredients here and there. I would normally use shredded chicken breast for this recipe, but I had some ground chicken and I didn't want to fight the New Year's Eve crowd at the grocery.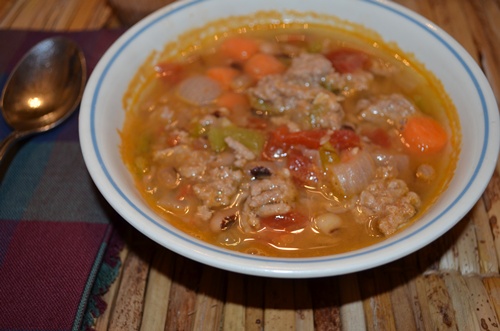 Southwestern Black Eyed Pea Soup With Chicken
Ingredients:
1 cup Black Eyed Peas (soak over night or use the quick soak method)
2-3 medium chicken breasts, or 1 lb ground chicken
4 cups chicken broth
1 cup water
1 cup chopped carrots
1 can of chopped tomatoes
1 can green chilis
3 cloves of garlic minced
1/2 medium onion chopped
1 teaspoon chili powder (or to taste)
1 teaspoon cumin (or to taste)
sea salt and pepper to taste
Directions:
Cook the black eyed peas according to the package directions (you can also use canned black eyed peas if you're in a hurry.
In a large stock pot add the chicken broth, water, chicken, cooked black eyed peas, onion, tomatoes and garlic. If you're using chicken breast you can cut it up before you add it to the broth, or let it cook then shred it. If you're using ground turkey add it by pinches until it's all in the broth.
Bring to a simmer for about 20-30 minutes, then add the chili powder, cumin, salt, and pepper.
Let the soup cook for another hour or so to cook the carrots through, then add the green chilis in the last 10 to 20 minute of cooking.
You can serve this topped with tortilla strips, shredded cheese or sour cream if you'd like.
Here it is topped with a little shredded cheese.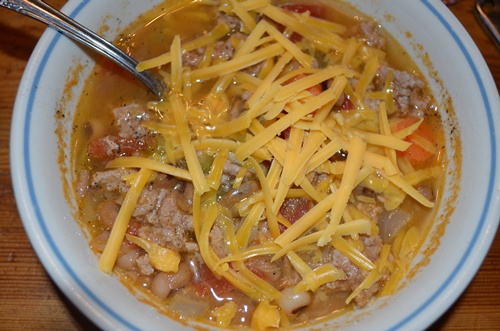 It's a great healthy recipe to start the new year with! Until you add the cheese…. I also made some homemade oatmeal crackers to top my soup with. I'll share that recipe in the next couple days!