Some links in this post may be affiliate links.
Have you been curious about what lemon essential oil can do for you? Lemon Essential Oil

is easy to come by and easy on your budget, making it perfect for an assortment of household tasks. It's actually one of my favorite essential oils because of its versatility. Grab a bottle for yourself, then take a peek below at 10 uses for lemon oil that you can try!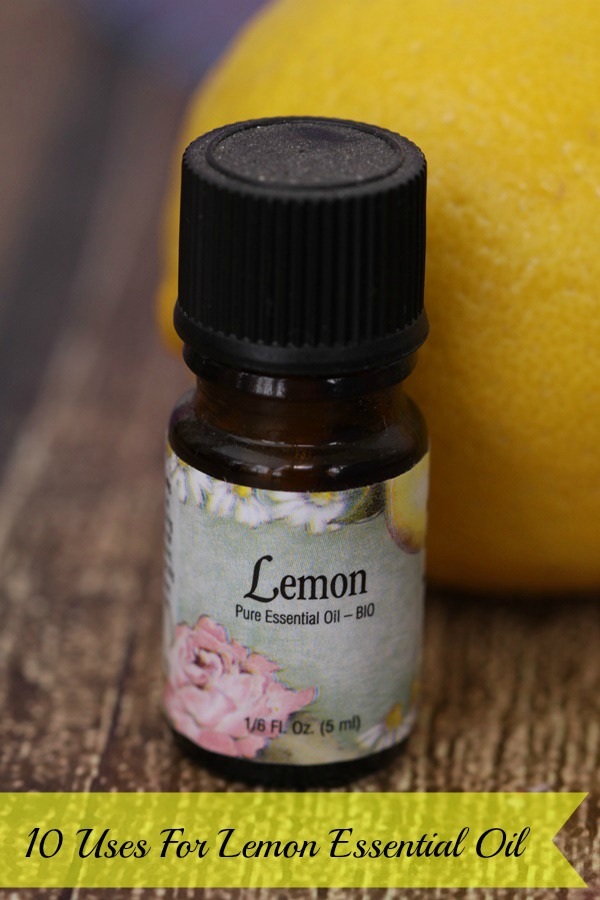 1. Say goodbye to stickiness.
If sticky residue is left from a price tag or sticker, just use a drop of lemon oil to remove it. You can dab it on with a q-tip then wipe clean. It will take the stickiness right off.
2. Invigorate yourself.
Place a few drops of a Lemon Essential Oil
into the palm of your hand and inhale for a quick boost of energy. Lemon oil naturally stimulates and can help you feel more upbeat and invigorated.
3. Sanitize your space.
Sanitize your counter tops, bathroom counters, toys and more. Just mix a few drops of lemon oil into a bottle of vinegar and start spraying! Wipe the area clean, and enjoy. There is no need to rinse.
4. Give your beverage a boost.
Add a drop of lemon oil to your sweet drinks, teas, and even water. It will give you some great flavor as well as a boost of energy.
5. Banish pet odor.
If your carpet smells of pet accidents, add a few drops of lemon oil to a few tablespoons of baking soda. Sprinkle and spread the mixture over the stains and allow to sit, dry, then vacuum up. Your carpet will be odor free!
6. Season your sauces.
Add a few drops of lemon oil to your sauces, dips, dressings, and marinades where lemon is typically added. It is a quick and easy way to give them some flavor.
7. Remove closet odor.
If your closet smells of stinky shoes, simply add a few drops of lemon oil to a cotton ball and place inside. It will help banish closet odor for good.
8. Soothe an aching throat.
Gargling some warm water with a couple drops of lemon oil added is a great way to soothe a sore throat and promote healing.
9. Make your skin shine.
Apply some lemon oil to a cotton ball and apply it to your skin where acne and oiliness tends to occur. It will help soothe irritation and make skin bright.
10. Soothe your scalp and hair.
Massage a few drops of lemon oil into your scalp to help revitalize, moisturize, and keep your hair and scalp healthy.
See how wonderful a Lemon Essential Oil
can be? Grab a bottle for yourself and give some of these uses a try.