If you're a regular reader here at Home and Garden Cafe you know I LOVE Mason jars! In my opinion you can use them in just about any room of your house and for just about any purpose. One of my favorite things to do with Mason jars is to use them for Mason jar planters to grow some of my favorite plants. If you think this is only for indoors, and you can't use Mason jars in your garden, you are wrong! Take a look below at 7 ways to use mason jars in the garden for both function and fun.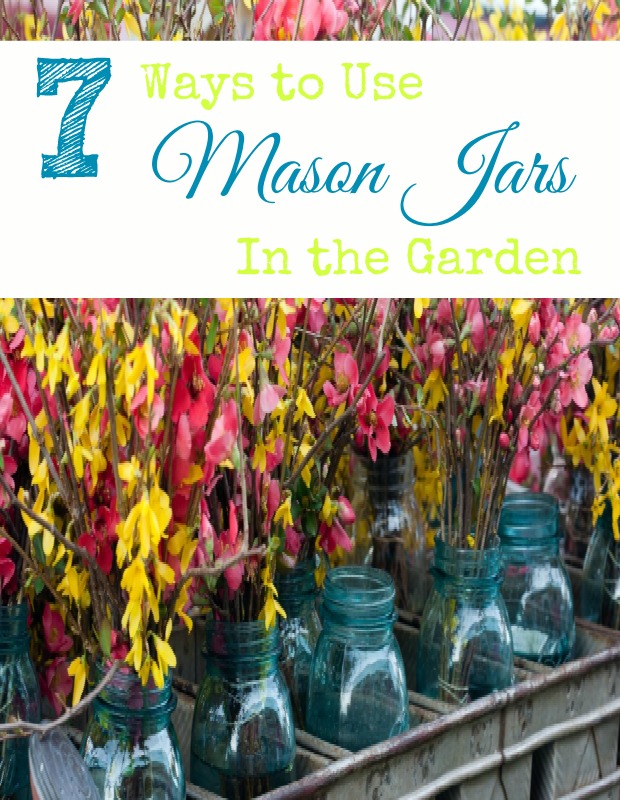 1. Keep tools organized.
One of the best uses for mason jars in the garden is to use them to organize tools. Place them in a garden caddy and use them to hold the hand trowel, spade, and other garden tools. They can even hold your garden markers.
2. Keep seeds dry.
Place your seed packets or even whole bulbs into the jars and secure them with the lids. This will keep the seeds dry and safe until needed. Plus, it is nice to be able to see right through the jars. You can even add jar labels if you wish.
3. Store food scraps.
Use the jars to store egg shells, citrus peels, and coffee grounds, all of which are perfect feeding and enriching your soil. Just place these items as you accumulate them into the jars and use when needed. To use these scraps, simply stir them into the soil and they will do the rest.
4. Start your seeds.
If you need to start some seeds indoors, simply fill your jars with nutrient rich soil and plant the seeds per package directions. Place in a bright window sill, keep moist, and then watch your seedlings grow.
5. Make your own slug trap.
Turn the jar on its side and press it into the garden soil. Pour some beer into the jar so there is enough freestanding without spilling out. Slugs will climb in and meet their demise.
6. Make your own luminaries.
You can fill the mason jars with sand and drop in a tea light or battery operated candle to add some ambiance to your garden. You can even take the top off of a solar light and place it in the jar for light night after night.
7. Store your produce.
Take your small produce items from garden to kitchen with mason jars! Just fill a clean mason jar with cold water and place small items such as cherry tomatoes, peas, beans, and carrots. The cold water will keep the items cool and fresh until you can get them washed and refrigerated.
So gather up those Mason jars and head out into the garden! As you can see, they can prove to be quite practical and even fun. Gather up your Mason jars and see which of these suggestions work for you.