I don't know about you, but I'm a big chia seeds fan! I'm always trying to find ways to add more chia seeds to my diet. That's why I want to share these 25 amazing chia seed recipes with you! These recipes make it easy, and delicious to add chia seeds to your diet.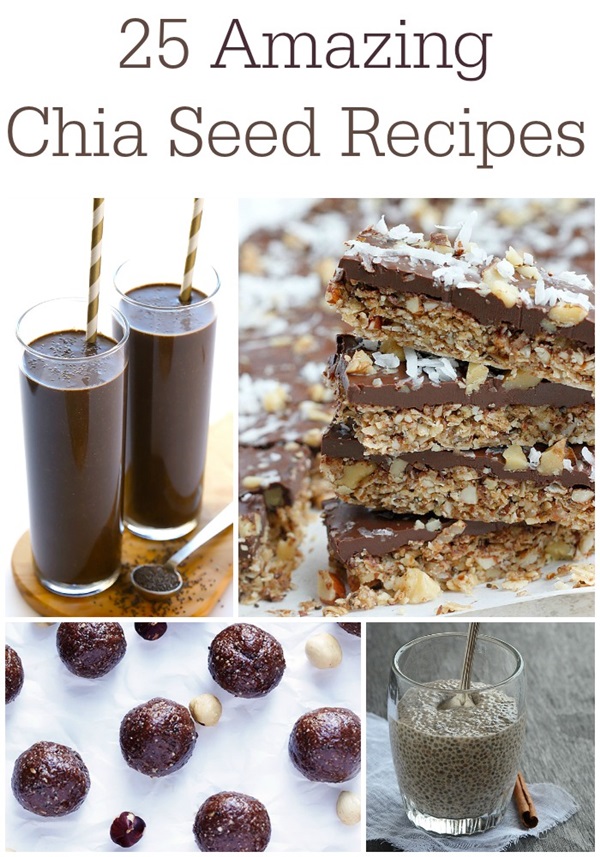 1. Tropical Smoothies~ a delicious easy way to add chia to your breakfast!
2. Mocha Chocolate Chunk Chia Seed Brownies~ A dessert idea with a nutritional punch!
3. Blueberry, Buckwheat, and Chia Seed Muffins~ Another great chia breakfast or snack ideas.
4. Chocolate Chia Smoothie~ We can never have too many smoothie recipes at our house!
5. Dark Chocolate Coconut Granola Bars~ Did someone say chocolate?
6. Raw Chocolate Cashew Cups with Chia Seeds~ Sounds like a yummy combination!
7. Carrot Cake Chia Pudding~ Definitely giving this one a try!
8. Vegan Lemon Chia Seed Scones~ Did someone say breakfast?
9. Vanilla Granola with Quinoa and Chia Seeds~ Granola is wonderful for a quick healthy snack!
10. Dirt Cake Chia Seed Pudding~ A fun twist on traditional dirt cake!
11. Nutty Oat Seed Bars~ For nutrition on the go!
12. Honey Lemon Chia Seed Muffins~ These sound delicious!
13. Vegan Chocolate Chia Seed Pudding~ Umm… chocolate?
14. Cinnamon-Vanilla Chia Seed Pudding ~ Love the cinnamon vanilla flavor combination!
15. Nutella Energy Bites~ I'm all about energy on the go! Seems like we're always going somewhere!
16. Strawberry Rhubarb Chia Cups~ Perfect for the summer months.
17. Healthy Chia Seed and Apple Waffles~ Yum! Anything is better in waffle form!
18. Chia Seed Oatmeal~ Oatmeal is a wonderful breakfast for the cold months!
19. Cucumber Lime Chia Fresca~ Refreshing!
20. Strawberry Chia Frozen Yogurt~ Sounds like a fun cool treat!
21. Chocolate Chip Chia Oat Cookies~ You could slip these into your child's lunchbox!
22. Tropical Chia Pudding~ I love chia pudding!
23. Superfood Gluten Free Quinoa Chia Bread~ This sounds amazing!
24. Mango Banana Chia Seed Smoothie~ Like I said, we can never have too many smoothie recipes at our house!
25. Chocolate Power Water~ There's that chocolate word again! I LOVE anything chocolate!
How do you add chia seeds into your diet?