Who says the kids should get all the sweets and have all the fun on Halloween? Today I have some fun Halloween candy-inspired cocktails from Familia Camarena Tequila and Blue Ice Vodka. These sweet "treats" will have you playing kitchen wizard for your party or just because this Halloween.
Think back to when you were a child, and what your favorite candies were, then check out the recipes below and see if any of them are included.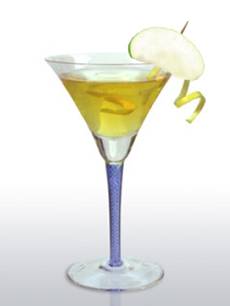 Candy Apple Sparkling Tequini

Ingredients:
2 oz Familia Camarena Silver Tequila
1 oz sparkling apple juice
1 teaspoon agave nectar
½ green apple, cored and chopped
Directions:
Muddle apple in cocktail shaker with agave nectar
Add sparkling apple juice and Camarena Tequila
Shake and strain into a chilled martini glass
Garnish with a thin slice of green apple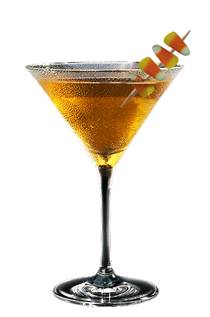 Camarena Candy Corn Cordial
Ingredients:
1 oz Familia Camarena Reposado Tequila
½ oz butterscotch schnapps
½ oz Crème de Cacao
 2 oz fresh orange juice
1 tsp dark cocoa
4 pieces candy corn
Directions:
Rim a martini glass with orange juice then cocoa powder
In a shaker, add tequila, butterscotch schnapps, crème de cocoa and orange juice
Add ice and shake well
Strain into prepared martini glass
Garnish with an orange wheel and toothpick of candy corn
Liquid Jolly Rancher
Ingredients:
1 oz Watermelon Jolly Rancher Infused Vodka (recommend Blue Ice Vodka)
1 oz lemon lime soda
3 oz cranberry Juice
Watermelon Jolly Rancher Vodka-Infusion Directions:
Add 12 Watermelon Jolly Ranchers into an 8 oz sealable glass container
Pour in Blue Ice Vodka to top of container and seal
Allow to infuse for 8-12 hours
Liquid Jolly Rancher Directions:
In a highball glass with ice, add Watermelon Jolly Rancher Infused Vodka, lemon lime soda and cranberry juice
Stir drink with a swivel spoon and enjoy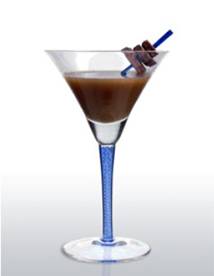 Milk Chocolatini
Ingredients:
3 oz Blue Ice Vodka
1 ½ oz Godiva Chocolate Liqueur
½ oz White Cream de Cacao
Several chunks of milk chocolate
Directions:
Add vodka, Godiva Chocolate Liqueur and White Cream De Cacao into a cocktail shaker and fill with ice
Shake vigorously and strain into a martini glass
Garnish with a toothpick of milk chocolate chunks
The Milk Chocolatini sounds really yummy, but the Liquid Jolly Rancher sounds interesting! If you decide to give any of them a try, don't forget to drink responsibly, and never drink and drive!