My son is in football right now, and he plays the drum in band. When he's not playing football, it's basketball or baseball. It seems like our family is always on the go (just like every other family out there). That's why I like to have some easy suppers ready to go, especially for game nights when we get home late and my son still has homework to finish.
I hate eating fast food, but if there's nothing at home ready to go it's really tempting. That's why I try to have some ingredients for quick and easy suppers on hand, but I also try to have some meals prepared ahead of time so I can just pull them out, and heat them up for supper. I don't do a whole ton of once a month cooking, but I do a few dishes. One of my favorites is lasagna. When I make lasagna… I make lasagna. It is just as easy to make three or four lasagnas as it is to make one (if you have the baking dishes available). When I buy lasagna ingredients I buy enough for several lasagnas and make extra to put in the freezer.
Here's my lasagna recipe, this recipe makes one lasagna, but it's a great once a month cooking (OAMC) recipe to make in bulk, just triple or quadruple the recipe and you're set.
I get out a large skillet to brown the ground beef, and a large pot to heat the sauce.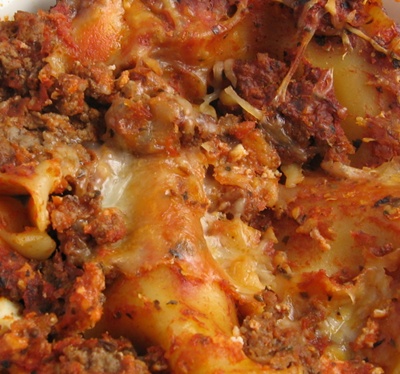 Once a Month Cooking Lasagna Recipe
One box lasagna noodles
1 lb lean ground beef
2 cups mozzarella cheese
1/2 cup Parmesan cheese
1/2 cup chopped onion
16 oz ricotta cheese
The Sauce:
1 -30 oz can tomato sauce
1 1/2 tsp basil
1 tsp oregano
1 bay leaf
salt and pepper to taste
For the lasagnas I plan on freezing I line the pans with wax or parchment paper so I can take the lasagnas out of the pans once they're partially frozen, until I'm ready to cook them. Then I wrap the partially frozen lasagnas in freezer paper until they're needed.
Combine all the sauce ingredients in a large pot, and heat to a low simmer. Brown the hamburger and add the chopped onion. When the hamburger and onions are thoroughly cooked, drain and add to the sauce.
I never soak or cook my lasagna noodles before I put them in the lasagna. Layer a layer of lasagna in the pan, then pour about 2 cups of the sauce mixture over the noodles. Add a layer with about 1/3 of the container of ricotta cheese, sprinkle on 1/3 of the mozzarella and Parmesan. Repeat the layers two more times.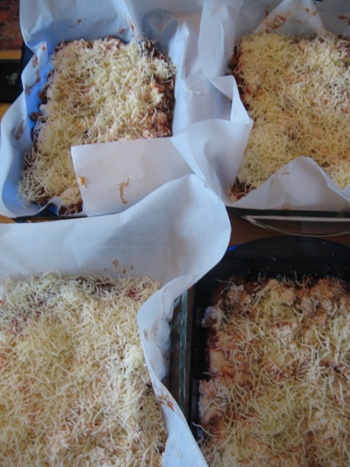 Of course I usually bake one for supper that night, we can't save them all for later, right?
When you're ready to bake your frozen lasagna, thaw it over night in the refrigerator, trim back the parchment paper then bake at 325` for about 40 minutes, or until the cheese is bubbling and the lasagna is heated through.
In addition to being a great once a month cooking recipe, it also makes a wonderful one dish supper, just pair it with a salad and some garlic bread or breadsticks and you have supper!