The snow is finally melting here in Ohio! I don't know about you but I'm ready to get your herb garden going this spring! I have spring garden fever! I don't think I'm alone. After a long winter, nothing sounds better than some fresh herbs! Now is the perfect time to start growing your herbs indoors so that when the threat of frost has passed, you can move your seedlings outside. Here are 7 herbs to plant this spring so you can enjoy their beauty and flavor all season long.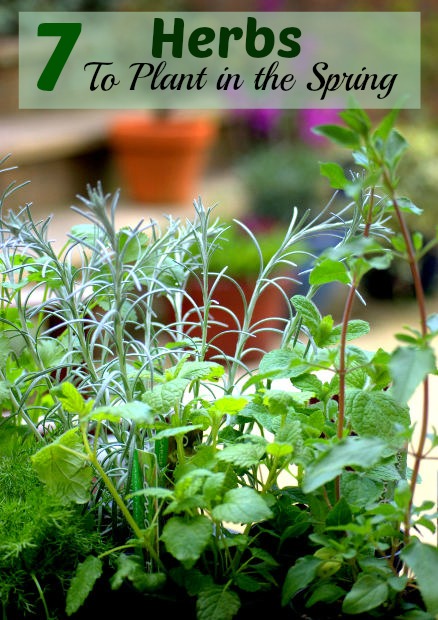 1. Chives
Chives are great in dips or on baked potatoes. They can also be used in marinades! They require well drained soil, a good 6 hours of sun per day, and enjoy a little afternoon shade. Chives makes the perfect spring herb for anyone who loves low maintenance plantings and are a must have for your list of herbs to plant this spring.
2. Parsley.
Parsley is so versatile and easy to grow. Soak your parsley seeds in water for 3 days before planting. This will help them grow quickly. The plants will enjoy well drained soil, medium sun, and may need to be thinned out occasionally. Once it gets growing, you will have plenty on hand for garnish, marinades, and more.
3. Basil.
Basil is the perfect herb to flavor your pasta dishes, salads, and soups. It comes in many varieties and is really easy to grow. It requires little care and in no time can really take off. Well drained soil, plenty of water, and medium sun is ideal for basil.
4. Thyme.
Thyme is excellent when used as a culinary seasoning. It is an attractive herb that even offers varieties that flower. Plant your thyme in well drained soil with plenty of sun.
5. Mint.
Mint not only smells great, it is so easy to grow. It spreads like wildfire and takes off in no time. It is great for desserts, beverages, and even crafting. Mint thrives on lots of water, well drained soil, and plenty of space to stretch its legs.
6. Oregano.
Oregano is the perfect way to make your sauces pop. You can grow it alongside basil for a real Mediterranean garden. It requires little upkeep and just needs nutrient rich soil and sun to really get growing.
7. Dill.
If you love pickles, you must grow dill. This plant may look delicate but it is quite hardy. It is perfect to use when pickling or even in dips. Place it in your flower beds for some delicate color. Dill will fare well in shade, but give it full sun and it will grow like crazy!
It isn't too early to start thinking about your garden and herbs to plant this spring. Whether you are planting in the yard or wish to do a container garden, consider these herb to plant this spring when planning yours as they are sure to give you great results!
Looking for more herb garden inspiration? Check out Best Herbs For a Patio Herb Garden.