A while back I received an Aroma ARC-1000 Professional Rice Cooker/Food Steamer
in the mail to take for a test drive. I've made several meals with it. especially since the weather's turned a little cooler, and I have to say I'm impressed. You can cook way more than rice in this thing! I love that you can throw everything in one pot, set the timer, then go get something else done. It's like crock pot cooking, only way faster.
I've been cooking recipes from the booklet that came with the rice cooker, but tonight I made up my own recipe, so I thought I'd share it here.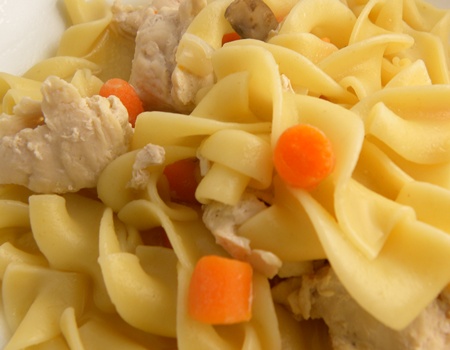 Homemade Chicken and Noodles
2 boneless skinless chicken breasts chopped up
1 8-10 oz bag of noodles
1/2 of a small onion
1/2 cup of chopped carrot
1/2 cup chopped fresh mushrooms
6 cups of chicken broth
1 Tablespoon of canola oil
I started by pressing the cook button, and preheating the rice cooker for 5 minutes. I have to say be careful when you open this thing, steam sometimes rolls out, you don't want your face down there.
Then I added the canola oil, onion, mushrooms, and carrots to the center chamber press the cook button, and set the timer for 5 minutes. I stirred the vegetables a couple time so they'd get a nice carmelized look and flavor.
When the timer went off I added the chicken, pressed cook, and set the timer for 10 more minutes, again opening the lid a couple times to stir the chicken with a long handled spoon (watch out for that steam).
I added the chicken broth, and the noodles, then pressed cook, and set the timer for 10 minutes.
It turned out delicious. Here are the links if you'd like to check out the other dishes I've made with the Aroma ARC-1000 Professional Rice Cooker/Food Steamer
: