One of my favorite fall flavors is pumpkin. While I'm baking up pumpkin for a pie, or carving a Jack O' Lantern, I always bake up the seeds that I scrape out of the center. It takes a little work to clean them up, but don't get too worried about a little pulp clinging to the seeds, it just adds a little flavor.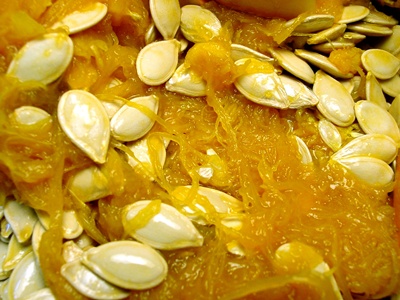 Roasting pumpkin seeds is really easy.
Separate most of the pulp from the seeds.
Then toss them with a little olive or canola oil.
Spread them in a single layer on a cookie sheet.
You can flavor your pumpkin seeds by sprinkling them with Parmesan cheese, salt, oregano, chili powder, cinnamon, pumpkin pie spice, or a little sugar.
Let them slow roast in the oven at about 250`F for about an hour. Keep an eye on the seeds and take them out if they start to get too brown.
You can use your roasted pumpkin seeds to eat as a snack, or add them to some of your favorite dishes. They work well in homemade granola, fall party and snack mixes, to add an extra crunch to your oatmeal or breakfast cereal.
Besides being tasty pumpkin seeds make a healthy snack. Adding pumpkin seeds to your diet can have many health benefits, since they're packed with nutrition. They're high in several vitamins and minerals including:
L-tryptophan which is supposed to help your brain guard against depression.
They're high in zinc, and magnesium
Pumpkin seeds are also loaded with beta carotene, and Omega 3 fatty acids which make them great building blocks for your skin and to keep you healthy.
So don't throw out those pumpkin seeds, give them a roast and gobble them up for a tasty nutritious snack.
Image sxc.hu