My sister in law gave me a recipe for apple cake many years ago. It's my absolute favorite recipe for apple cake, it's actually one of my favorite recipes of all time. This time of year when there are plenty of delicious in season apples in my kitchen I love to pull out this recipe.
The caramel topping melts into the cake making it super rich and super yummy! I usually leave out the walnuts, because I'm not a fan. The cake is delicious either way.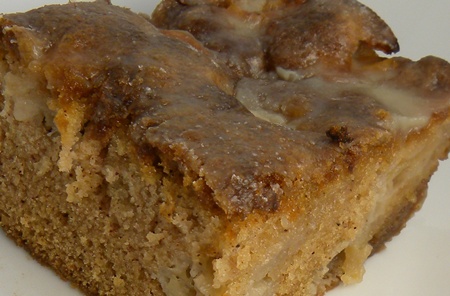 Apple Cake With Caramel Icing
3 eggs
1 cup oil
2 cups sugar
1/4 cup milk
2 teaspoons vanilla
3 cups of flour
1 teaspoon of cinnamon
1 teaspoon of baking soda
1 teaspoon of salt
3 cups sliced apples
1 cup walnuts
caramel topping~ recipe below
Preheat your oven to 350` and lightly spray a 9×13 baking dish. In a large mixing bowl cream together the eggs, oil, sugar, milk and vanilla. In a separate bowl mix the flour, cinnamon, baking soda and salt together. Slowly pour the dry ingredients into the creamed egg and sugar mixture, mixing as you go. When all the ingredients are combined fold the apples and the walnuts into the batter.
Bake the cake at 350` for one hour, or until a toothpick stuck into the center comes out clean, when you take the cake out of the oven pour the topping  (recipe below) over the cake while it's still hot. The topping is the best part! Yum!
Apple Cake Caramel Topping
1 stick butter
1/4 cup milk
1 cup brown sugar
Mix the ingredients together in a sauce pan and bring them to low boil. Boil the mixture for 2 1/2 minutes, then remove from the heat. Pour the mixture over the cake while it's still hot.