I'm in love with our Venta Airwasher! Venta sent us one to review this fall, and I'm totally in love with it! I'm not sure how I lived with out it before, hah! I have all kinds of allergies and sensitivities to dust, pollen, and man made chemicals like cleaners and perfumes. I always have to have tissues on hand! The Venta Airwasher is both a humidifier and air purifier all in one unit! When I had the opportunity check one out for myself I was stoked! I was provided the Venta Airwasher for review, but all opinions are definitely my own.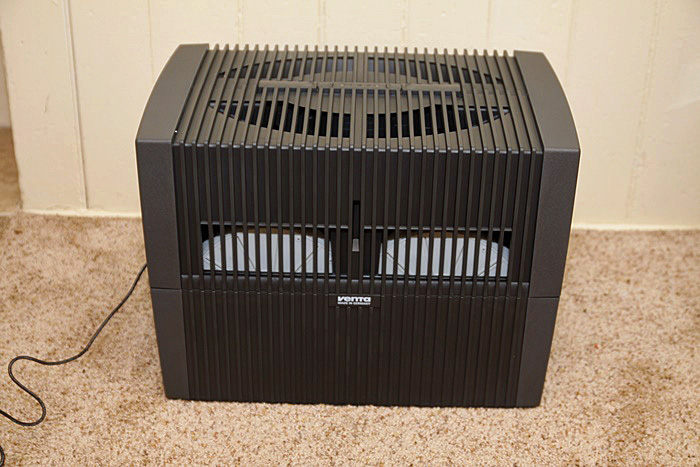 I wasn't disappointed once we had our Venta Airwasher up and running! I couldn't wait to get it out of the box and set up. I can definitely tell the difference in our air when I run the Venta Airwasher and when I don't. We have a wood burning stove we use during the winter, and it dries out the air along with our furnace. It seems no matter how hard we try we're always getting at least some smoke in the air, plus the wood adds dust to the air. I put our Venta a few feet from the wood stove to help put moisture back into the air and to clean the air in the main room of our house. Venta uses a revolutionary cold evaporation humidification method to ensure it never overhumidifies your home. The Airwasher doesn't force moisture into the air like most other humidifiers do. When your room air is perfectly hydrated, it stops taking moisture, it's that simple! Your unit will continue its purification of your home, 24/7. Such an easy concept!
Did I mention we're also right in the middle of a kitchen remodel? Our Venta is definitely getting a workout because we've been remodeling our kitchen for the last couple weeks, which means plenty of dust floating around from the demolition.
Box to setup the Venta Air Washer is super easy to have up and running in just a few minutes. I unpacked the box.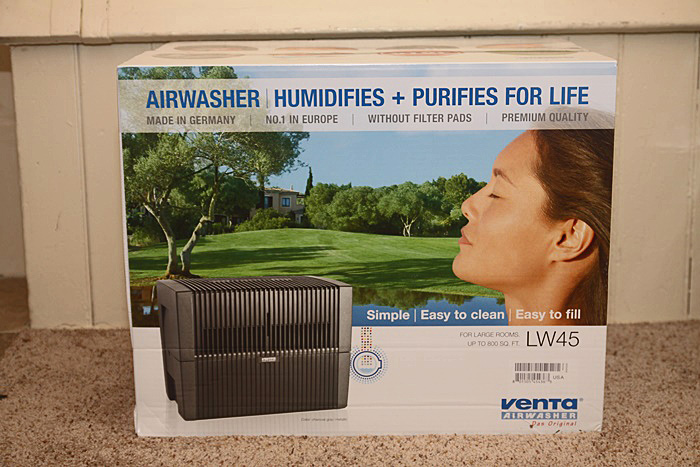 Easily removed the cardboard pieces holding the filters and motor in place for shipping. I put the filters in place and filled the water to the water line, plugged it in and we were in business!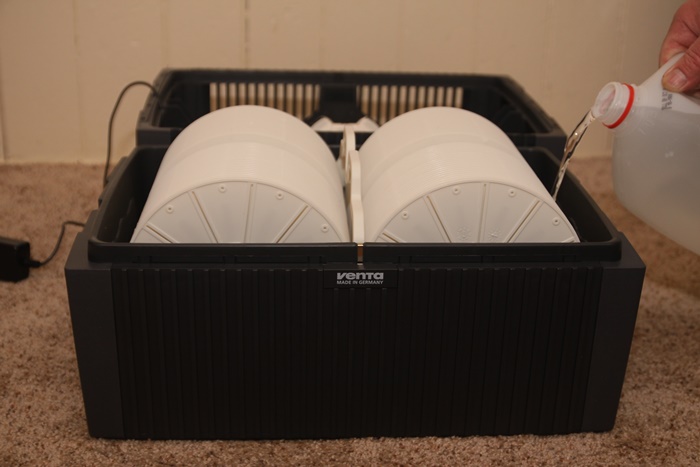 There's a blue light on the top that tells you the unit is working properly and there are 3 levels of operation.
Here's a short video explaining how it works.
You can check out more how to videos, including how to clean your Venta (super easy) and the complete Venta story on their YouTube channel or on the Venta Airwasher Info page.
We're testing out the Venta LW45, it's for rooms up to 800 square feet, so we put it between our kitchen and main setting room. You shouldn't place the unit right up next to the wall. It should be at least 2 feet from the wall for the best operation. I also try to add water to my Venta on a regular schedule. I find it works great to refill it during my night routine right before I go to bed. I've noticed my nose and skin isn't as dry this winter, and our air definitely feels fresher, not as dry. Did you know the Venta Airwasher can help keep the air cleaner to cut down on colds/ flu, dry skin, dry air nose bleeds, allergies from pollen, dust, pet hair, and help rid the air of bad odors. It can also help to keep musical instruments from drying out which sold my husband on it since he loves his trusty guitar! It's now in the middle room with the Venta!
If you read my blog much at all you know I'm a big fan of essential oils, and I'm a fan of diffusing. I'm excited to say Venta has their own line of special essential oils just for the Airwasher called the Venta Aromatherapy line. I'm definitely going to need to try those out next! It will be like diffusing, humidifying and cleaning the air all at the same time, total win! The best part is the Venta runs so quietly you don't even know it's running!
Do you have allergies, dry winter air, or dust in your house? You should definitely give the Venta Airwasher a try for yourself! You'll be glad you did!
You can also find more information on their
Facebook page, and by following them on theirTwitter page.