Last winter when I broke my leg one of the things I missed the most was being able to go to a salon to get my nails done without asking someone else to take me. So I decided I'd learn how to do my own DIY gel nails at home! I ordered this Gelish travel gel nails LED light kit. While it's not perfect, it was much cheaper than some of the full size Gel LED lights out there, and it does do the trick for me! BUT THERE was a learning curve! I was ready to throw it in the trash on my first attempt.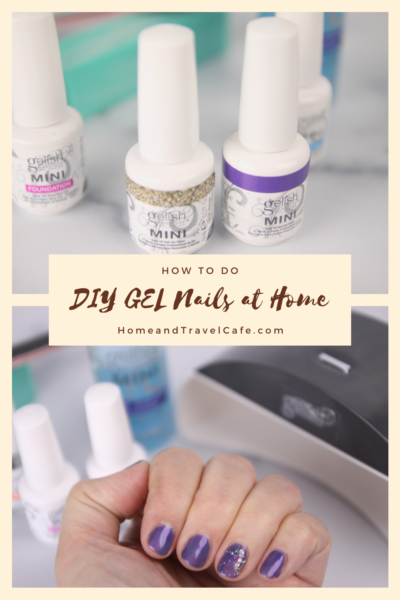 Disclaimer: I'm definitely NOT a pro! I wanted to share some of my trials and errors with you to save you some frustrations if you decide you want to try doing your own nails at home. MAKE SURE YOU FOLLOW THE DIRECTIONS OF ANY LED LIGHT YOU PURCHASE! I also want to mention some of the links in this post may earn me a small commission if you click through and make a purchase.
20 Fun Spring Nail Design Ideas
Once my leg healed I went back to having my nails done at the salon for the most part. I work from home and I enjoy the pampering at the salon! With the recent salon closures in our area for the stay at home mandates I broke out my little Gelish travel LED light and I've been doing my nails at home again.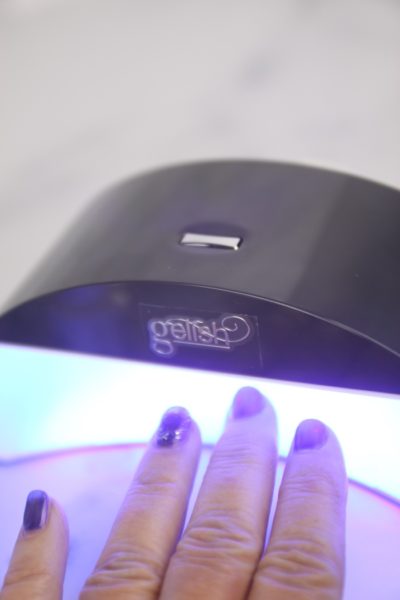 While my salon nail tech does a much better job at getting my nails perfect, and she also takes care of my overall nail health. I have been able to get by again doing my gel nails at home until I can get back to the salon!
7 Tips for DIY Gel Nails at Home
For this smaller travel LED light I've found that I can put my four fingers in at once. If I put my thumbs in together and do them separate from my fingers it works out really well! I have a really hard time positioning my thumb flatly with my fingers. So each layer I do my four fingers on each hand, then I do my thumbs and put them in together separate from my fingers. It takes a little more time but works better, and I have fairly small hands. If you use a larger LED light you can probably do your whole hand. If it's awkward though, keep this tip in mind!
Trim and file your nails the way you want them, and clean up your cuticles. Then wash your hands thoroughly to get rid of any dust or debris.
Start with the PH Bond on each finger (doesn't have to be cured under the light), then add a thin coat of the foundation, and cure under the light.  I have my light set for the maximum time, be sure to read the directions for your light to see what curing time is suggested.
Add your color, I do 2 layers, curing under the LED light between each layer. On mine this time around I had some glitter polish. So I added a layer of that to one nail, and again cured under the LED light.
Add a thin layer of top coat and cure under the light. I always put mine under the light 2 more times after I add that top coat, just for good measure! But again, be sure to follow the directions of your individual LED light.
IMPORTANT STEP: Your nails will be tacky until you apply the Nail Surface Cleanse at the end. After you've applied all the layers and put them under the LED light one last time. This is an important step that until I figured it out caused me MUCH frustration. I put my fingers under the light several times when I was done and could NOT figure out why they were still tacky. The Nail Surface Cleanse finishes off your nails and makes them smooth and no longer tacky to the touch.
Make sure you use cuticle oil frequently. I think it helps the gel polish stay on and it helps keep your nails healthier.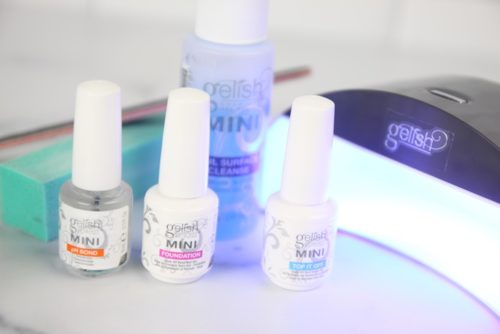 There you go! Those are my tips for doing your own DIY gel nails at home. Like I said I'm definitely NOT a pro! These are just a few of the things I've learned! If you have any tips to share, please be sure to leave a comment!
The colors I used on my nails here are not in the kit, but there are some great colors that come with the LED light kit. I used Gelish Extra Plum Sauce and Gelish All That Glitters is Gold. I've had both since last spring, so I don't know if they're still available, but you can probably find something similar!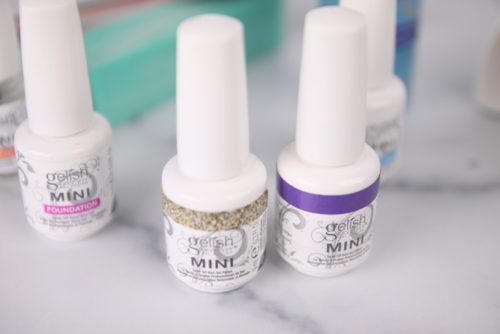 Looking for more nail ideas? Check this out: