Kids and grown ups both like gelatin jigglers. They're definitely a favorite at our house! I like to make them from scratch, with juice instead of the pre-packaged gelatin flavors. I use a little juice and fruit flavored herbal teas to flavor my gelatin jigglers without adding too many calories. Here's my favorite recipe for some red cinnamon cranberry spice jigglers, with a Valentine's day twist!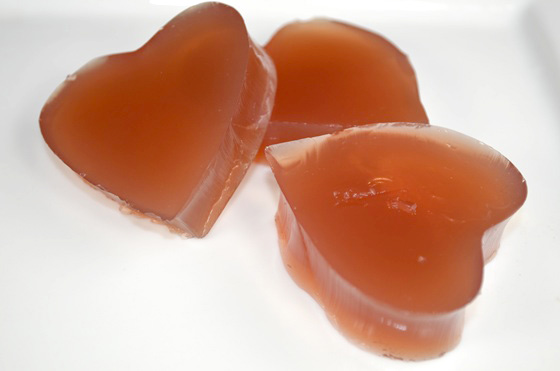 Cinnamon Cranberry Gelatin Jigglers
Ingredients:
4 envelopes gelatin (like Knox)
1 cup apple juice
1 cup 100% CRANBERRY juice
2 cups water
3 Cinnamon Herbal Tea Bags (I used Good Earth Sweet and Spicy)
Instructions:
1. In a sauce pan heat the cranberry juice and the water until boiling, then remove from heat. Add the tea bags and let the tea steep for a couple minutes.
2. After the tea has steeped f or a minute or two, in a bowl add the apple juice and sprinkle the gelatin over the top. Let it stand for about a minute.
3. Remove the tea bags from the hot mixture and pour it into the gelatin apple juice mixture. Stir for about 5 minutes, or until the gelatin completely dissolves.
4. Pour into a 9×13 pan and chill for about 3 hours in the refrigerator.
5. If you want to make this healthy treat fun for Valentine's Day use heart cookie cutters to cut out heart jigglers and serve them up to your family or for a fun healthy touch to your Valentine's Day party.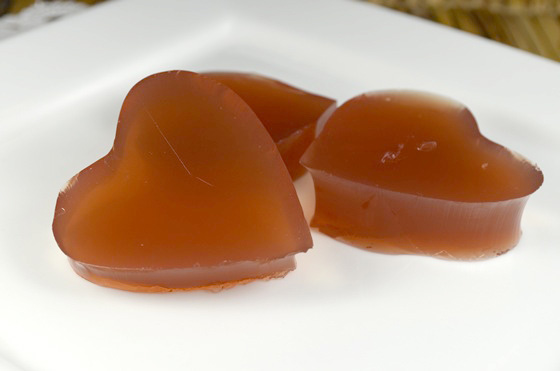 This recipe is perfect for those who are trying to be healthy, are following the Paleo diet, and for those who are trying to stay grain or gluten free. The cinnamon cranberry gelatin is tart and has a great fruity-cinnamon flavor.  It isn't super sweet, but it gets a little sweetness from the juice, and from the cinnamon in the tea. If you want it sweeter you can add a little honey when you combine the hot and cold liquids.