My aunt gave me a recipe for hot pepper jam many years ago. I kind of forgot about it in my recipe card box until a couple weeks ago. I went to our local farmer's market and bought a small 4 oz jar of pepper jam for $4, and remembered how wonderful it was on crackers, burgers, and corn chips. The 4oz jar didn't last long, but at $4 a jar and plenty of peppers in the garden, I decided I needed to dig out the recipe and make my own!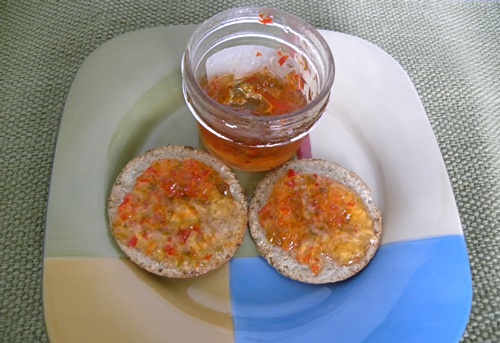 I like my pepper jam more sweet than hot, so I go easy on the hot peppers (or use mild banana peppers), and use more bell peppers. You can adjust it to fit your own tastes.
Hot Pepper Jam Recipe
1 cup hot banana peppers (or mild) remove the stems only
3/4 cup red bell pepper
1 1/2 cup vinegar (I use apple cider)
6 1/2 cup sugar
1 6 ounce bottle Certo
Directions:
Place the peppers in the blender or food processor, and chop until ground.
In a large pot add sugar, vinegar, and ground peppers.
Bring to a boil for 3 minutes
Add certo and return to a boil for 2 more minutes.
Remove from the heat and pour into small hot jars and add the lids.
If the lids are clean and the jars are hot, the jam should seal itself.
Of course it doesn't last long at our house, so it doesn't have much time to go bad.
Added to Turning The Table Thursday