I don't know about all of you, but at our house grilling is a year round thing! Our grill is right outside the back door, in a fairly sheltered area, so we sometimes grill in January!  Even if you're a fair weather griller, you can enjoy this recipe for Mediterranean lemon chicken and potatoes for a few more weeks. I think it would also be delicious cooked inside in the oven. Either way the foil packs make for an easy clean up!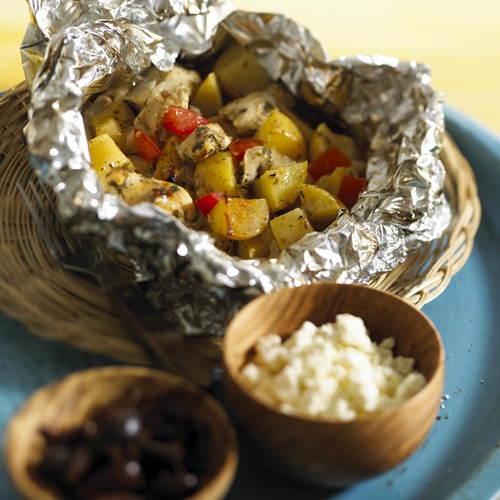 Mediterranean Lemon Chicken and Potatoes
This dish is delicious topped with crumbled feta cheese just before serving.
Prep time: 20 minutes
Cook time: 25 to 30 minutes
1 1/2 lbs. boneless skinless chicken breasts, cut into 1-inch cubes
1 lb. Yukon Gold potatoes, cut into 3/4-inch cubes
1 medium onion, coarsely chopped
1/2 cup reduced-fat Greek or olive oil vinaigrette
1/3 cup quartered Kalamata olives (optional)
1/4 cup lemon juice
1 teaspoon dry oregano
1 teaspoon garlic salt
1/2 cup chopped tomato
Mix all ingredients except tomatoes in a large bowl. Place equal amounts onto 4 large squares of heavy-duty foil. Fold in top and sides of each to enclose filling, leaving room for air to circulate. Grill over medium heat for about 25 to 30 minutes or until chicken is cooked through and potatoes are soft. Carefully open packets and sprinkle equal amounts of tomato over each. Makes 4 servings.
Note: Packets may also be baked at 400°F for 30 minutes instead of grilling.
This recipe is courtesy of the US Potato Board.