White chili is one of my favorite wintertime recipes! I love to throw all the ingredients in the Crock Pot and let them simmer on a cold winter day.
I like to make my own soups so I can control the sodium and quality of the ingredients. Most of the time I soak my own beans, but if I use canned beans I usually use beans that have no sodium added (I find them in the health food section of our local grocery).
Here's my favorite recipe for white chili: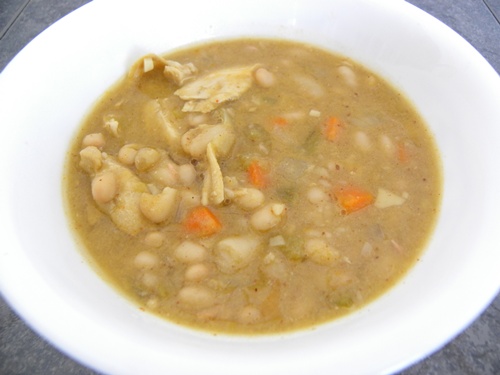 White Chili With Chicken
4 cups low sodium chicken broth
2 chicken breasts (diced)
2 cups navy or great northern beans
2 cups cannelloni beans (white kidney beans)
1 small can green chilis
1/2 medium onion diced
2-3 cloves of garlic minced
1 Tablespoon of chili powder
1-2 teaspoons cumin
1 stalk of celery diced
1-2 carrots finely diced (optional)
Celtic sea salt to taste (I don't usually add any salt, but my husband does)
Directions:
Soak the beans overnight if you're not using canned, then cook for a couple hours until tender and drain.
Combine the chicken broth, chicken breast, beans, celery, onions, garlic, and carrots in a large stock pot, and let simmer on medium heat for about 1/2 hour, or place in the slow cooker and let it cook all day on medium heat.
Add the green chilies, cumin and chili powder about 10 minutes before you're ready to serve.
You can also add a few drops of hot sauce, like Frank's Red Hot to the finished soup before you serve it to kick the heat up a notch or two.
Serve with corn chips instead of crackers. You can also garnish your soup with a little shredded cheese, sour cream, or some avocado slices and cilantro. Yum!