I'm a big smoothie fan! I usually have one every morning for breakfast, even in the winter. Lately I've been adding hemp seeds to my morning smoothie, and it gives it a wonderful creamy texture, and adds some Omega 3s, Omega 6s and other great vitamins and minerals to my day.
I did some serious soul searching, and made some serious lifestyle changes last spring, that included cutting out most things processed, and consuming a more natural diet. The smoothies fit in very well with that lifestyle. They are a wonderful way to kick start the morning, so I thought I'd share the recipe here at Home and Garden Cafe.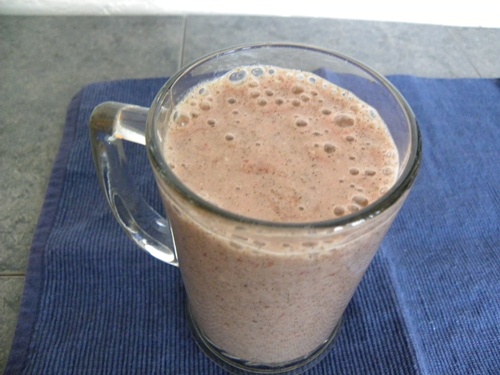 Berry Hemp Smoothie

Ingredients:
2 Tablespoons shelled hemp seed (I use Nutiva Shelled Hempseed)
1 Tablespoon Hemp powder ( I use Nutiva Organic Hemp Protein Powder)
(or use one more tablespoon of hemp seed)
2 bananas (peeled)
1 cup frozen strawberries
8 ounces of water (or milk, soy milk, rice milk, almond milk etc)
Optional: 1 Tablespoon of honey
Throw everything in the blender and blend until smooth. How easy is that? This makes 2 servings, but I gotta tell you I usually polish off two glasses myself and don't share!
I don't usually add the honey, but if you have a sweet tooth, the honey will make everything a little sweeter.
The hemp seeds make this smoothie rich and creamy, so I usually just use water, but you can make it even creamier by using your favorite milk.