New Year's Eve parties come with some high guest expectations, which can intimidate even a seasoned host. We're sharing some easy New Year's Eve party decorating tips which will have you transforming your home into a festive soiree in no time!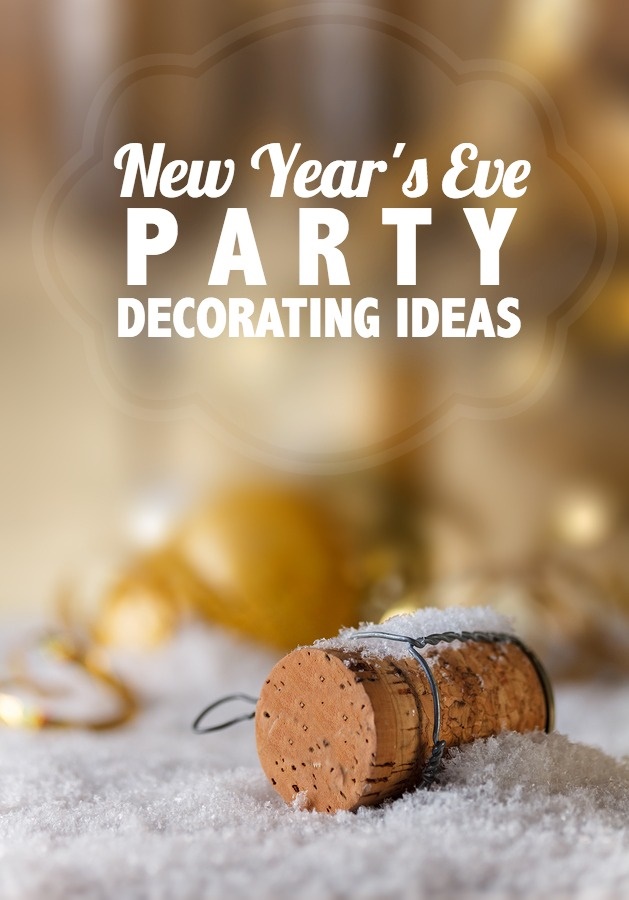 New Year's Eve Party Decorating Tips
First, choose a color palette. A favored color palette incorporates classic colors of black, gold and silver, with a touch of glitter for some extra glitz and glamour (New Year's Eve only rolls around once a year, so make it special)! Plus, by choosing such classic colors, you are more likely to already have items on hand at home that you can use. Leftover Christmas ornaments, metallic ribbon and sparkly holiday accents make for perfect quick change additions for a New Year's celebration.
Don't be afraid to shop after Christmas sales for additional décor basics. Serving trays, platters and extra glassware and dishes are often on sale. Items like basic white plates can be purchased and embellished with food safe paints. How amazing would hand painted clocks striking midnight look as part of an elegant table setting?
Add Some Extra New Year's Eve Pizazz
Add some glitz by spray painting plastic or faux fruit leftovers from the holidays with metallic paint to create a beautiful runner and centerpieces. Even the leaves of a pineapple top can look amazing gilded with gold or silver and used as a tea light holder. Add glitter to vases or dollar store glassware stems to really impress guests.
Create New Year's Eve magic by adding great lighting. Accomplish this by stringing holiday lights and using well-placed floor lighting. Even rope lighting under sheer tablecloths on refreshment buffets and behind sheer fabric curtains can have a big impact. Pull out candles in all shapes and sizes and light them in areas that need a little more ambience.
Use basic bowls and dishes (clear and white work perfectly), and fill them with gold and silver candies like Hershey's Kisses and Nuggets. Strategically place these in areas that need a little glam, providing perfect snacks for guests to enjoy. It also adds a little bit of sparkle all in one.
Decorating Tips as The New Year Approaches
Traditional New Year's Eve party horns can be strung as a garland. Other favors like glittered hats, feather boas and beads can be purposefully positioned as décor on the refreshment table. These can be handed out as favors as the clock ticks closer to midnight.
You can spruce up your favorite bar cart with tissue tassel garland DIYd from clearance tissue paper, for an inexpensive display that's sure to wow your guests. Add fun paper straws, stir sticks and all of the ingredients for a signature mocktail or cocktail.
Use a shimmery fabric made of sequins to lay the foundation for a beautiful refreshment table. Add height by wrapping gift boxes in metallic wrapping paper and adding cake stands and platters in varying heights. This will help to serve a line-up of beautifully presented finger foods. You can add printed food labels to help guests identify all of the mouth-watering options and give your party that pulled together look.
Keep these tips in mind while adding your personal flair—you will be ringing in the New Year, in style!