I'm a really big rosemary fan. It's one of my favorite herbs, I buy at least one rosemary plant every summer. Today I have a shortbread cookie infused with rosemary. I really love the citrusy woodsy flavor the rosemary adds to the shortbread, it's a wonderful combination.
I got the basic recipe from a friend many years ago, and I've changed it a bit through the years and adapted it to my own taste.
I used the star cookie cutter to make these, since I made them last week for a 4th of July party, but you can make them any shape. They're wonderful for Christmas cookies, since the rosemary gives them a wonderful scent and flavor for the holiday season.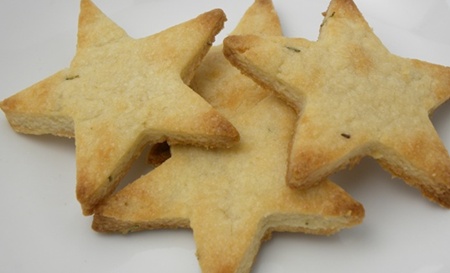 Rosemary Shortbread Cookies
1/2 cup butter
1 1/4 to 1 1/2 cup flour
1/2 cup sugar
1 large Tablespoon of chopped fresh or dried rosemary
1 teaspoon vanilla
Blend the butter and sugar together until smooth. Add the vanilla, and the rosemary. Then slowly add the flour until the mixture forms a crumbly ball when you knead it.
Roll the mixture out on a floured board until it's about 1/4 to 1/3 inch thick, and cut into squares or use a cookie cutter to make shapes. Place on a greased baking sheet and bake for about 1o minutes, or until the top just starts to turn a light golden brown.
Remove the cookies from the baking sheet, and let them cool on a cooling rack.
Enjoy!