Summer is officially here! Woot! 4th of July celebrations are coming up fast! It's my favorite time of year for inviting over friends and neighbors for some grilling bbq fun.
Here's a finger-lickin' barbecue recipe for your next cookout. You don't have to be a pitmaster to make this easy recipe for Chili-Glazed Beef Ribs courtesy of Tabasco.
The ribs get their kick from the combination of tangy chili sauce, sweet molasses and original Tabasco pepper sauce. Yum! Just the photo is enough to make my mouth water!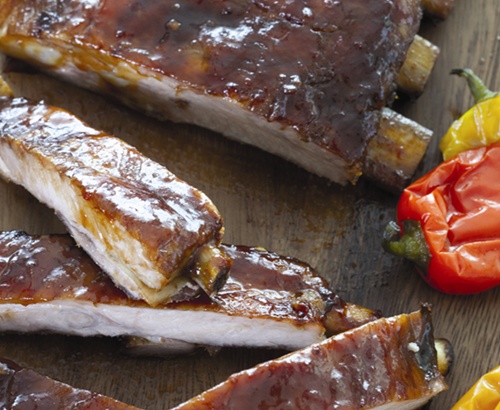 CHILI-GLAZED BEEF RIBS
4 pounds beef back ribs*
4 teaspoons original Tabasco® brand pepper sauce, divided
1/2 cup chili sauce
1/4 cup molasses
1/4 cup white balsamic vinegar
1 tablespoon brown sugar
1/2 teaspoon salt
Preheat oven to 325° F.
Brush ribs with 2 teaspoons Tabasco sauce. Place in large roasting pan. Cover tightly with foil; bake 1 1/2 hours.
Meanwhile, in small saucepan, combine chili sauce, molasses, vinegar, brown sugar, remaining 2 teaspoons Tabasco sauce and salt. Heat to a boil, over high heat; reduce heat to low; simmer, uncovered about 5 minutes to blend flavors.
Preheat grill to medium-low, over indirect heat. Brush ribs on both sides with sauce. Place ribs on grill; meat-side down. Cover and continue cooking 15 minutes. Turn ribs over; brush with more sauce. Cook 15 minutes longer, or until ribs are tender. Serve ribs with grilled bell peppers, if desired.
Serves 6.
*If you prefer, substitute one 4-pound slab pork spare ribs in place of beef ribs. Prepare as above.
I'll be back with the recipe for my brother in law's famous (at least in our family), and delicous bbq ribs!