It's rhubarb season here in Ohio! I love having the opportunity to eat locally and seasonally, and it doesn't get any better than rhubarb in May around these parts. I decided some strawberry rhubarb crisp was in order. My strawberries here are still just blooms and little green berries but I couldn't wait, so I did have to buy some berries to make my crisp this time. The first of June I'll have some strawberries straight from the garden, and I'll definitely be making more strawberry rhubarb crisp!
I have a small patch of rhubarb right outside my kitchen door. So I raided it, then got a little more rhubarb from my mom's garden to go with it. My recipe for strawberry rhubarb crisp doesn't have any thickeners, I love the juiciness, especially when it's warm over some homemade ice cream. It's heaven! So if you're looking for a thicker crisp you should probably move along to a different recipe, or add some corn starch. Otherwise enjoy the sweet juice!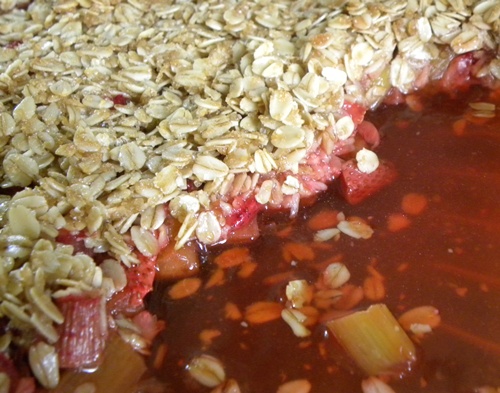 Strawberry Rhubarb Crisp
Ingredients:
4 cups chopped rhubarb
1 ~ 16 oz container of strawberries~ chopped
3 Tablespoons + 1/2 cup cane sugar
2 cups rolled oats
1/2 cup oil
1/2 teaspoon vanilla
Directions:
1. Chop the strawberries and the rhubarb and place in a 9×13 baking dish.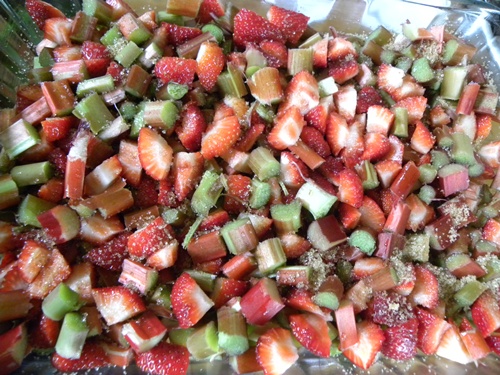 2. Sprinkle the 3 tablespoons of sugar over top, and stir lightly to mix in.
3. In a medium bowl mix together the rolled oats, oil, 1/2 cup sugar and vanilla until it forms a loose crumble.
4. Pour the rolled oat mixture over the strawberry rhubarb mixture.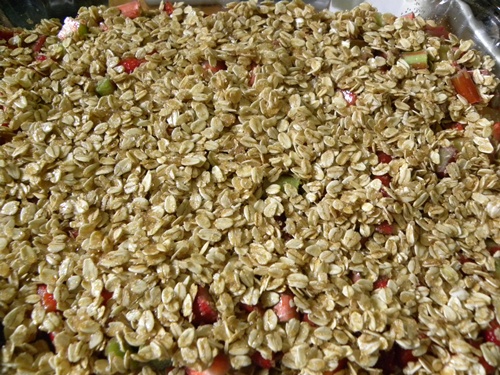 5. Bake for 35 to 45 minutes at 350`F or until the crisp is a light golden brown.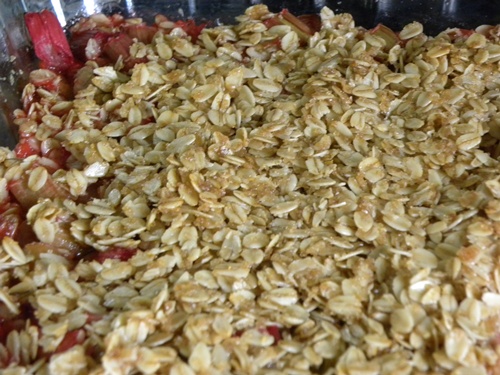 You can enjoy warm out of the oven straight up or over ice cream. You can also freeze strawberry rhubarb crisp. I like to make extra this time of year, then freeze individual containers to pull out later for a quick snack or dessert.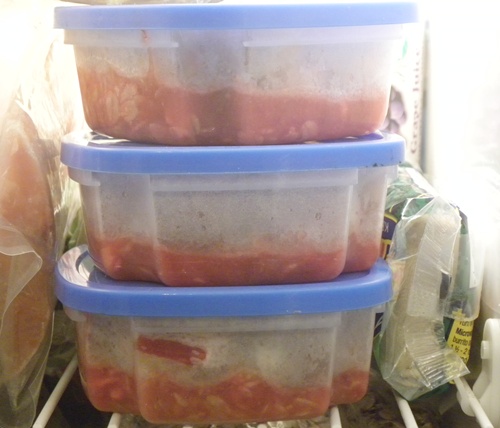 It's great for those nights when my son has a baseball or football game and I don't have much cooking time! My own version of convenience food.