The other day I shared my favorite recipe for Strawberry Rhubarb Crisp. I'm on a strawberry kick lately, they've been tasting so good already, and the strawberries in my garden aren't even ripe yet!
Today I want to share one of my favorite recipes for strawberry shortcake. This is a quick and easy recipe you can bake in a 9×9 baking dish. Then top the shortcake warm out of the oven with fresh strawberries, and a little strawberry sauce. Top it all with fresh whip topping and you'll have one of the best summer desserts ever!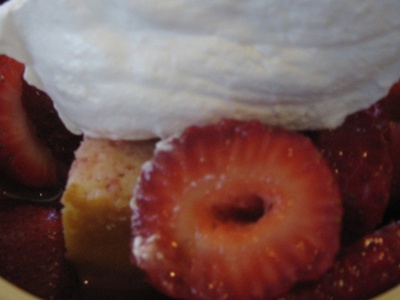 Strawberry Shortcake Recipe
Ingredients:
3 eggs
1 c sugar
2 c flour
1/2 c milk
1 tbs butter
1 tsp baking powder
1tsp vanilla
Mix all the ingredients together in a medium bowl. Preheat your oven to 350` while you are mixing the ingredients. Bake for 20-25 minutes, or until the cake is a light golden brown on top. Top with fresh strawberries, and whipped cream.
I have a wonderful recipe for strawberry pie. I'll just have to make one in the next week or two so I can come back and share a photo and the recipe!