I love homemade strawberry pie, it definitely tops my list of favorite summer foods! Especially this time of year, when strawberry season is in full swing, and the berries are plump, juicy, and loaded with flavor. If you like strawberries you HAVE to check out this homemade strawberry pie recipe! It's delicious!
This strawberry pie recipe has a super easy crust that a friend gave me many years ago. The crust is super rich and flaky. I guarantee you'll love it from the first bite to the last. The best part is you don't even have to roll this crust out, just press it into the pan. It has the perfect flavor for this pie!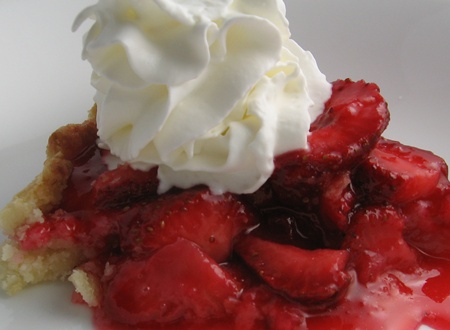 Easy Homemade Strawberry Pie Recipe
The Filling:
1 quart of fresh berries, sliced
1/2 cup powdered sugar
1 1/2 tablespoon of cornstarch
1/2 cup sugar
1/4 cup water
Stir 1/2 cup of powdered sugar into 3 cups of sliced berries. Let the mixture stand in the refrigerator for two hours. Blend the remaining cup of berries with 1/4 cup of water, 1 1/2 tablespoons of cornstarch, and 1/2 cup of sugar.
Cook and stir the mixture in a saucepan until the mixture is clear and thickened. Fill a 9″ baked pie crust with whole berries; pour cooled sauce over them. Cool thoroughly and serve with whipped topping.
1 1/2 cup flour
1/2 cup oil
1 teaspoons of salt
2 tablespoons of sugar
2 tablespoons of milk
Mix the ingredients together and pat into a 9″ pie pan. Bake at 400` for 10 minutes, then pour in the filling mixture and chill to set.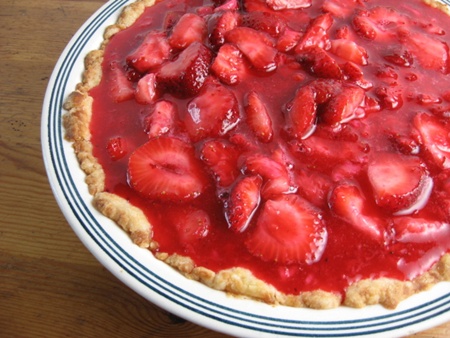 I'm soooo excited for strawberry season! You can bet I'm going to make this homemade strawberry pie recipe. It's great for summer cookouts and carry ins too. It's guaranteed to be a hit!
Looking for more summer dessert recipes? Here are 8 summer strawberry recipes!