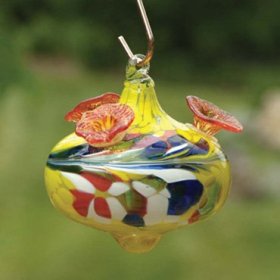 Check out this Beautiful Hand Blown Glass Hummingbird Feeder
, I think it's wonderful. It's made of multi-colored hand blown glass. I think it would look great in the garden, and not detract from your garden's appearance.
I'm always on the lookout for unique garden items. A hummingbird feeder like this one would blend in with the flowers around it not stick out like a sore thumb.
It would also make a great gift if you're looking for a present for a gardener for Valentine's day, or a birthday.
I love the flowers, and the blown glass shape. I bet my hummingbird friends would love it to filled with sweet treats.