I've roasted potatoes, onions, and sweet potatoes, but I've never roasted beets. I've also never roasted them all together, until this week when I gave this roasted root vegetables recipe a try.  I really love red beets, so I'm not sure why I've never tried roasting them before? I've pickled, boiled, dehydrated, canned, and fermented them, hah! But I haven't roasted red beets.
I was super excited with how this recipe came out. I added rosemary because I'm a rosemary fan, but you don't have too. The roasting brings out the sweet in the root vegetables.
Roasted Root Vegetables Recipe
Ingredients
2 potatoes
3 red beets
2 sweet potatoes
1 red onion
½ teaspoon sea salt
1 teaspoon dried rosemary
1-2 tablespoons avocado oil
Instructions
Preheat the oven to 400 degrees Fahrenheit.
Rough chop all of the root vegetables into about ¼ inch slices.
Chop the onion into 8 sections.
Toss the chopped vegetables in a large bowl with the avocado oil, sea salt and rosemary (optional).
Spread out on a cookie sheet, and bake at 400 degrees for about 45 minutes, tossing and turning once or twice while they're cooking, until the vegetables are tender through.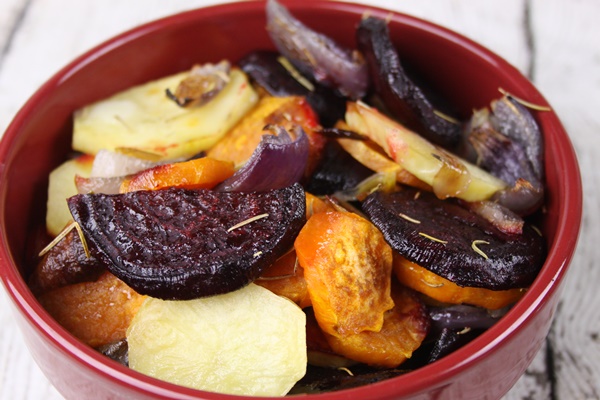 These are delicious warm out of the oven! The make a great side dish! I served them up with some rosemary baked chicken. Yum!
I'm working through the month of January on the Whole30 program, so I created this recipe as part of my Whole30 menu and recipes. I've really been enjoying the journey with great recipes like this! I definitely haven't been missing the processed foods!