You wouldn't know it today here in Ohio, since there's snow on the ground yet agian but Spring is here! Which means it is time to freshen up your space and bring the beauty of the outdoors in! If you are curious about how you can easily and inexpensively bring spring into your space, take a look at 10 ways to bring spring into your home décor below. You will find that getting your nest spruced for spring is easier than you think!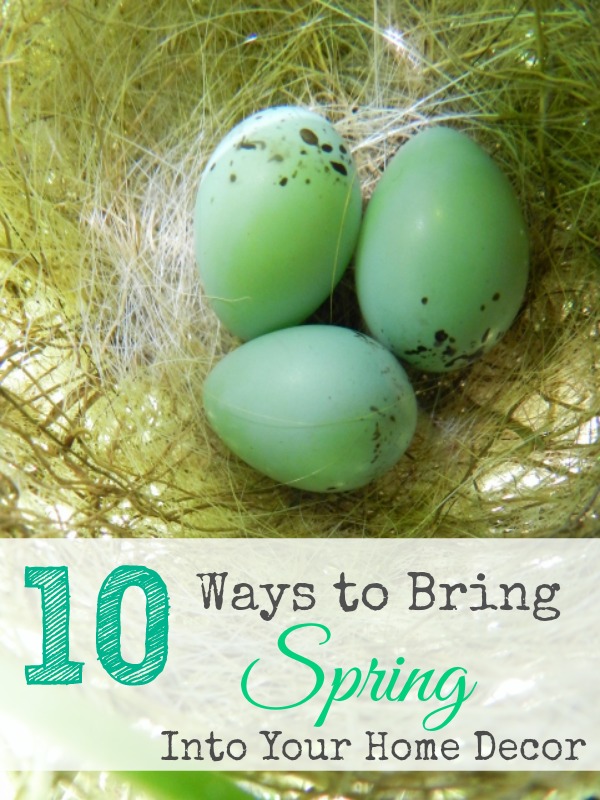 1. Bring in some branches.
Gather some fresh branches and arrange them in a tall vase. You can even add a pop of color by spray painting them or by adding fine glitter to the branches!
2. Try some bud vases.
Hit up the thrift store for small vases and salt and pepper shakers. They make the perfect bud vases. Pick those first of the season blooms and place them in a vase. Then, stagger vases all over the house so you can enjoy fresh flowers in any room.
3. Perk up your pillows.
Switch out throw pillows for colorful and brightly patterned ones. Even if they don't match your regular décor, they will add their own pop of whimsy.
4. Lighten up linens.
Switch out the linens in the kitchen and bathroom to lighter, brighter options. It is amazing how much a single towel can liven up a space.
5. Sweeten up your scent.
Try a lighter, fresher air freshener in your space. Go for a clean linen or fresh vanilla or citrus option. If you are more of a candle person, you can always opt for candles in these scents.
6. Add some light.
Use some patio lights, twinkle lights, or even small night lights in your space. The soft light will add ambiance while really making it feel like a sweet spring night.
7. Hang some new artwork.
Change out your wall art to include spring inspired paintings, sketches, and even sculptures. Look for spring scenes and colors that work with your space but reflect the season.
8. Try a new area rug.
Brighten up your space with a spring inspired area rug. Go for a bright, bold color or a soft pastel.
9. Add some curtain tie backs.
Add some colorful curtain tie backs to your space. Pull back the curtains so you can let plenty of natural light in. Between the colorful tie backs and the natural light, your space will feel like spring!
10. Try some natural elements.
Bring in as many natural elements to your space as you can. This includes flowers, moss, rocks, twigs, and other natural pieces. Arrange them into centerpieces, large vases and bowls, or use them in your home décor crafting.
Are you ready to get your space ready for spring? Then give these easy decorating tips a try and see how easy it can be.