Blueberries are a summer favorite here. They're so good for you and loaded with vitamins and anti-oxidants. I love their flavor straight up, or in delicious recipes like blueberry pies, salads, granola, ice pops, brownies, muffins, bars, cookies, cones, pancakes, and more! If you're a blueberry fan you can check out these delicious blueberry recipe ideas I've put together in the roundup below.
I love to pick fresh blueberries myself from local farms while they're in season, or buy them at the local farmers market while they're super cheap and freeze them for use all year round. Blueberries are super simple to freeze. All you have to do is rinse them and throw them in a freezer bag. If you wan to individually quick freeze them just spread them out on a cookie sheet first, then throw them in a freezer bag once they're frozen.
20 Blueberry Recipe Ideas For Your Summer
Looking for recipes to use your bounty of blueberries on this summer? Check out these 20 delicious recipes. **This post was originally published in 2015, but I'm updating it to share again this summer!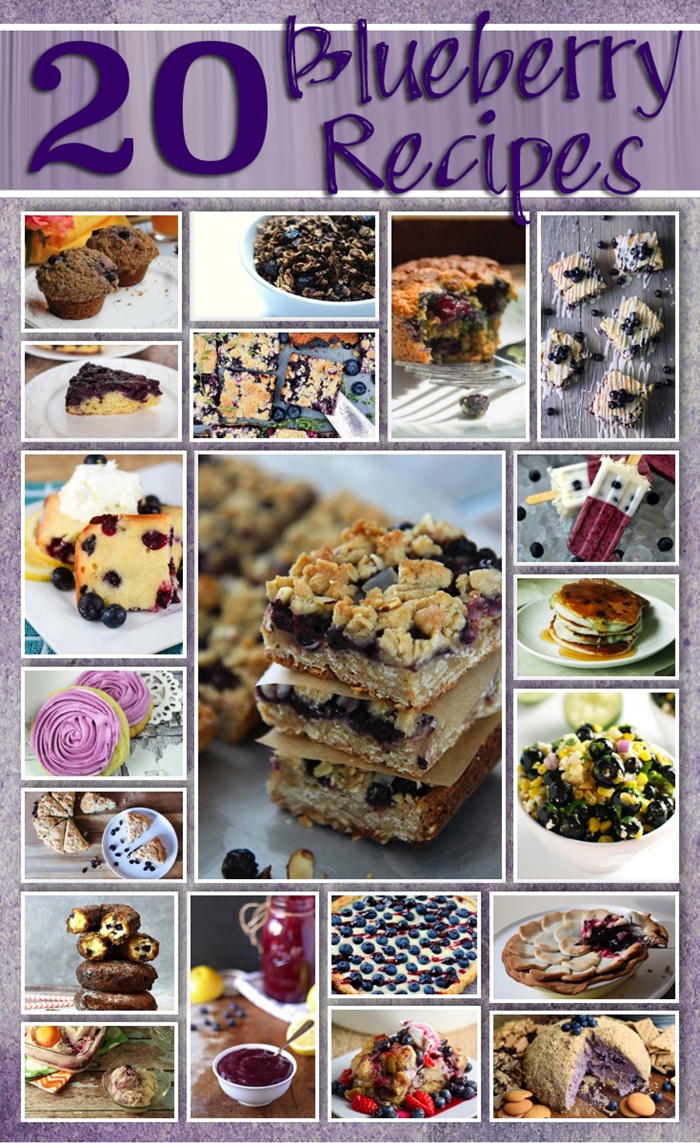 Blueberry Thyme Bars | Floating Kitchen
Rustic Blueberry Lemon Tart | Simply Stacie
Blueberry Pie Cheese Ball | Mom on Timeout
Blueberry Breakfast Muffins | Lizventures
Blueberry Corn Salad | Stuck on Sweet
Blue Ribbon Blueberry Pie | A Night Owl
Blueberry Vanilla Flax Granola | Strength and Sunshine
Blueberry Coconut Ice Pops | Flour on my Face
Cakey Lemon Blueberry Brownies | Flavor Mosaic
Blueberry Avocado Muffins | Divas Run for Bling
Blueberry Coconut Bars | Tastes of Lizzy T's
Blueberry Strawberry French Toast Casserole | Flavor Mosaic
Lemon Blueberry Bars | A Dish of Daily Life
Lemon Sugar Cookies with Blueberry Frosting | The Tiptoe Fairy
Gluten Free Blueberry Scones | Everyday Eyecandy
Two Ingredient Blueberry Cake Donuts | Call Me PMc
Homemade Blueberry Lemon Curd | Honey and Birch
Blueberry White Chocolate Buttermilk Pancakes | Sarah's Cucina Bella
Low Carb Blueberry Cheesecake Ice Cream | Yours and Mine Are Ours
Blueberry Upside Down Cake | Upstate Ramblings
Do you like your blueberries in a sweet dessert like cake, cupcakes, cheesecake, or muffins? For breakfast in donuts, smoothies or pancakes? Or do you like to keep them healthy and add them to a salad? We'd love to hear your favorite blueberry recipes!
Looking for more blueberry recipe ideas? Check out this yummy low-carb blueberry smoothie recipe!