The summer bbq season is almost here! Tis' the season when everyone is planning outdoor bbq and potluck carry ins. Of course you want to bring a delicious dish so all your friends will ask you for your secret recipe! Today I have 25 summer bbq potluck recipe ideas that are sure to wow your friends with their deliciousness!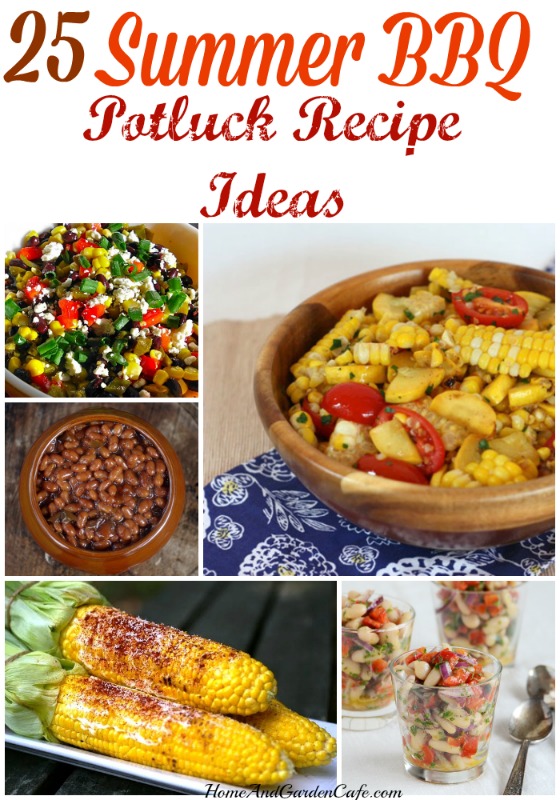 1. Bacon Potato Salad ~ Potato salad is a summer potluck staple, add bacon and it's sure to be a hit!
2. Butter Bean Salad~ Perfect for summer!
3. Browned Butter Summer Vegetable Sautee~ Take advantage of those fresh summer veggies for this dish!
4. Delicious Baked Beans~ Another potluck staple kicked up a notch!
5. Black Bean and Feta Cheese Dip~ Everyone loves dip!
6. Layered Summer Veggie Appetizer~ More summer freshness! Take advantage of those local farmers markets!
7. Sweet Corn Muffins~ Super easy to bring to a summer potluck and sure to be a hit!
8. Quinoa Stuffed Peppers~ Spread the quinoa love!
9. Quinoa Fruit Salad~ A wonderful combination of summer flavor!
10. Amish Macaroni Salad~ Macaroni salad is another summer bbq staple, and this recipe is a wonderful variation!
11. Oven Roasted Garlic Herb Parmesan Potatoes ~Easy to make and sure to be a hit!
12. Smoked Mozzarella Pasta Salad~ Another fun twist on pasta salad.
13. Broccoli Salad~ One of my summer favorites!
14. Gluten-Free Pastitso~ A Greek recipe favorite in a gluten free version.
15. Easy Pulao~ This easy Indian recipe with curry is sure to spice things up!
16. Balsamic Roast Chickpeas~ Simple light and delicious!
17. Cabbage Salsa~ Another great bbq side dish recipe straight from the farmers market to your potluck.
18. Chilaquiles~ Add a little spicy southwest flavor to your next bbq!
19. Fried Zucchini Balls~ A great bbq appetizer idea.
20. Orzo Salad with Chickpeas and Cherry Tomatoes~ The perfect light bite for summer!
21. Spaghetti Casserole~ A fun twist on an old favorite!
22. Cheesy Hashbrown Casserole~ Cheese? Of course this would be a backyard bbq hit.
23. Corn Salad with Tomatillos~ A wonderful blend of summer flavors all in one dish.
24. Grilled Corn on the Cob~ Always an easy summer bbq favorite!
25. White Bean Roasted Red Pepper Salad~ Yum!
What's your favorite go to summer BBQ potluck recipe?