I love making my own body products! Especially lately with all the craziness at the store. Plus when I make my own I know what ingredients go into them! Peppermint and lavender are 2 of my FAVORITE scents! We have 3 wonderful peppermint lavender DIY body products to share with you today including a sugar scrub, bath salts, and a luxurious body butter. These three recipes are made with Lavender, Peppermint and other natural ingredients, each with great benefits for any time of the year, and they also make great homemade gift ideas!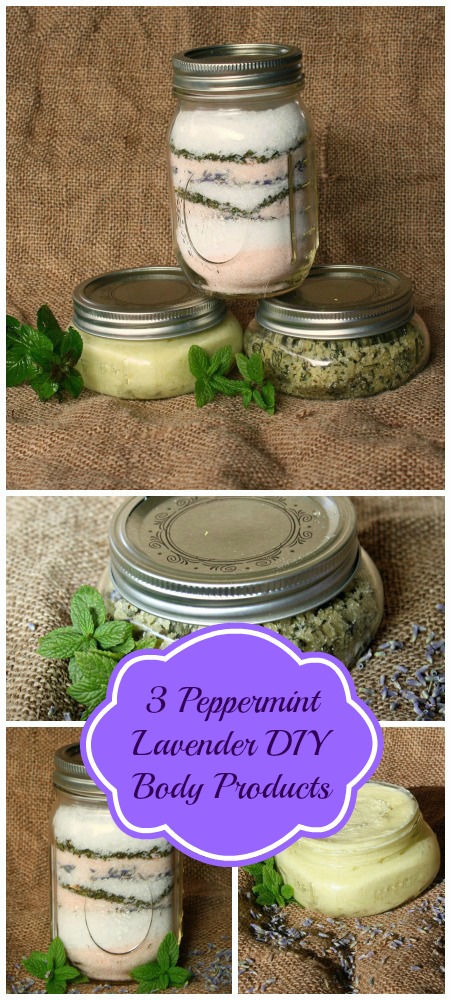 Lavender is one of the most calming and soothing herbs there is. It is like a mothers warm embrace holding you close and telling you everything will be ok. Lavender is calming to the mind, the nervous system, and the body. Externally, it us used to reduce redness, inflammation, itchy skin, and is moisturizing. If you google uses for lavender you will find hundreds of uses for this amazing herb, but here it is mostly to relax the body and the mind, and ease nervous tension.
Peppermint is a tingly invigorating experience. The smell of peppermint is amazingly uplifting, invigorating, and refreshing. It helps firm and tone lose unhealthy skin and works as an astringent.
3 Peppermint Lavender DIY Body Products
The combination of the two is both stress relieving and invigorating, helping you make it through the holiday crush with ease of mind and body. Up first DIY Peppermint Lavender Bath Salts
DIY Peppermint Lavender Bath Salts

Ingredients:
1 C Epsom Salt
1 C Himalayan Sea Salt
1/8 C Lavender Flowers
1/8 C Peppermint Leaves
15 Drops  of both Peppermint and Lavender Essential Oil (optional)
Directions:
Combine all ingredients in a bowl and store in a dry glass jar. Use 1/2 – 1 C of salts in the bath at a time. Enjoy the uplifting and relaxing effects of the herbs combined in the bath.
Why these ingredients?
Epsom Salts are Magnesium Chloride, a highly absorbable form of magnesium which our bodies need for over 300 chemical and enzymatic processes in the body, and most Americans are deficient in.  Magnesium is a key factor in nervous system function, and can ease symptoms of depression, muscle aches and pains, inflammation, digestive distress, irritability, nervousness, and much more. It is very easily absorbed through the skin in a warm, but not scalding hot bath.
Himalayan Sea Salt is full of trace minerals that can easily be absorbed from the skin. They help balance the bodies natural mineral content and offer a gentle detoxification effect. Himalayan Sea Salt is also a beautiful addition to the bath salts and adds a nice color. Up next Peppermint Lavender Sugar Scrub
Peppermint Lavender Sugar Scrub Body Polish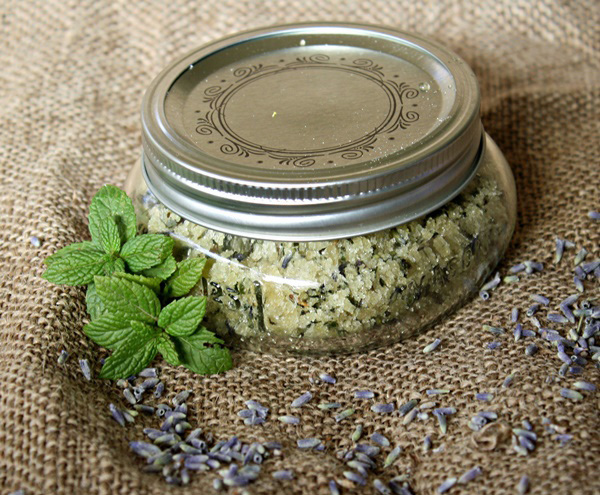 Ingredients:
1 C coarse sugar
1 1/2 Tbsp olive or jojoba Oil
1 Tbsp raw honey
1/8 C peppermint
1/8 C lavender flowers
5 drops peppermint essential oil (optional)
10 drops lavender essential oil (optional)
Directions:
Combine all of the ingredients in a mixing bowl until thoroughly mixed. Does it feel too dry? Add a very little bit more honey or oil to give it the right texture. Too moist? Add a tea spoon more sugar at a time until the right consistency is reached. The texture you want is like moist sticky grains of sugar.
Scoop your mixture into sterilized jars, take it into the shower and scrub all over, avoiding sensitive skin.
Be sure to be careful in the shower! The floor can get slippery with the oil.
Why these ingredients?
Sugar is exfoliating, it encourages the growth of new skin cells and can actually make your skin look and feel younger.
Jojoba oil is incredibly moisturizing, full of anti-oxidants and is a good oil to balance the skin and bring it back to healthy. It may be a bit too oily for some, which is why people can choose Olive Oil. Olive oil is wonderful for people with normal/oily skin to help remove impurities and restore healthy oils without over doing it.
Honey is the beauty secrets ancient royalty has enjoyed for thousands of years. It is nourishing and moisturizing to the skin and a common anti-aging ingredient. Raw honey is also antimicrobial and can help remove impurities. Honey's anti-inflammatory properties reduce redness, swelling, aches and pains. Up next peppermint lavender body butter
Peppermint Lavender Body Butter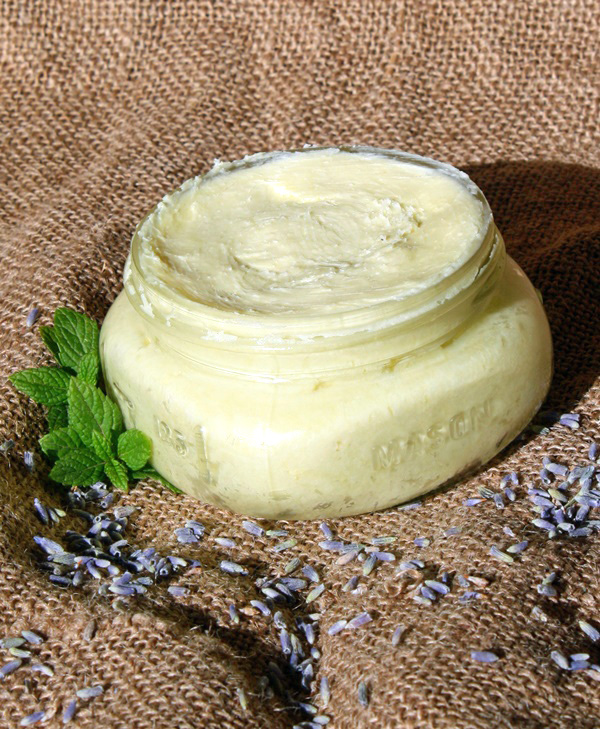 Ingredients:
1 C Shea Butter (Cocoa or Mango butter can be used if you have a nut allergy)
1/2 C Coconut Oil – Unrefined
1/2 C Jojoba or Olive Oil
1o drops Peppermint Essential Oil
10-15 drops Lavender Essential Oil
Tools Needed:
Glass measuring cup like a Pyrex (4 C size at least) or a pint sized mason jar
Sauce pan
Electric Mixer with Bowl
Directions:
Add the shea butter, coconut oil, and olive oil into the pyrex or other glass container.
Fill the sauce pan with water, and place the glass jar into the water being sure to get no water into the oil, and the water doesn't overflow the pan. This creates a sort of "double boiler" and will allow you to melt the butter without burning the oil.
Put it on the stove on medium until the oil and butter is completely melted.
Pour your oil blend into your mixing bowl and allow your oil blend to cool to below room temperature. This works beautifully if you put it outside in the snow (or in the freezer) for about 15-20 minutes. You want it just to where the oil is starting to thicken on the sides and top, but not so that it is hardened throughout.
Place your bowl on the counter or on your mixing bowl stand and turn the beaters on medium, then slowly work your way up to high. If your blender has a "whip" setting, that is ideal.
The oil, depending on how warm it is, will whip up anywhere from 10-20 minutes. When preparing your oil the cooler it is, the faster it will look like body butter. If it keeps looking like thick oil, and not a lotion after about 5 minutes, stick it in the freezer again and let it cool down a little bit more.
Be sure you scrape the sides of the bowl constantly while whipping it up to make sure nothing gets missed.
Once the body butter is a thick whipped texture that melts on the skin it is time to put into any sterilized jar like a 6 oz jam mason jar, or you can get beautiful cosmetic jars at sites like specialty bottle.
This recipe makes about 3 cups of body butter and makes the perfect gift.  It absorbs into the skin easily without leaving any greasy feeling, and is sure to be a hit as a great handmade holiday gift.
I hope these 3 Peppermint Lavender DIY Body Products are what you're looking for, but if you're looking for more homemade body products or lavender goodness? Check out these articles: