I told you yesterday about the vanilla birthday cake I made for my mom, today I want to show you how I decorated it with basket weave. I used the lemon cream icing recipe I posted with the vanilla cake recipe here: lemon cream icing.
Here's the result.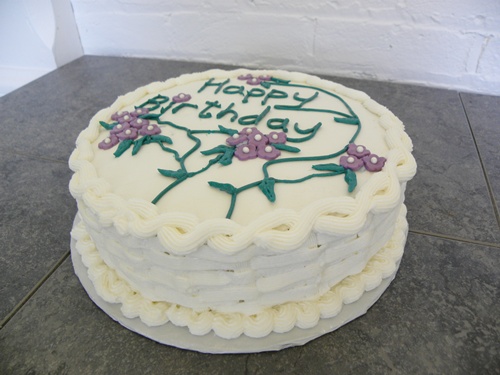 I was a little rushed to get it finished. We were going to my nephew's football game, it was supposed to be at 5pm, but we got a call that morning that the game was moved up to 3, eek! I had two hours less than I thought I would, so I had to keep the decorations simple!
I started by icing the top of the first cake, then piping some icing around the outside edge. Then I put about 3-4 tablespoons of strawberry preserves in the center. The piped icing around the outside held the preserves in the middle of the cake so they didn't get into the icing when I was decorating it.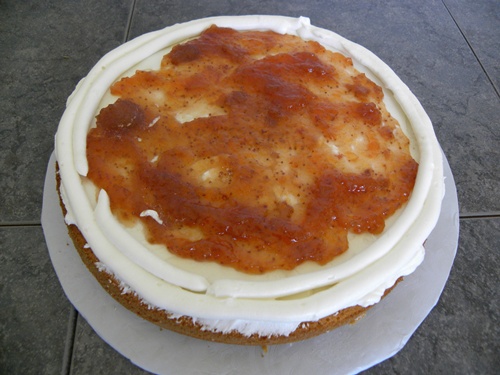 Then I added the second cake to the top.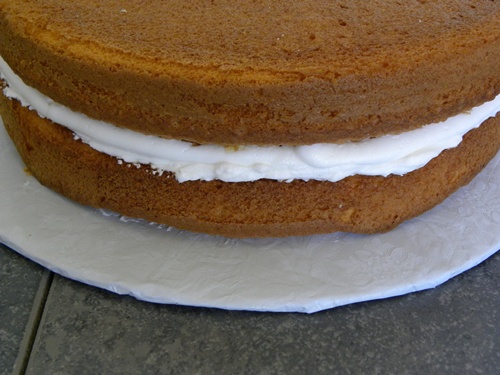 Then I gave the whole thing a thin coat of icing to seal in the crumbs, and let the cake sit for 15 to 20 minutes to let that layer dry.
I added a second thicker layer of icing to the top of the cake, then started on the basket weave for the sides.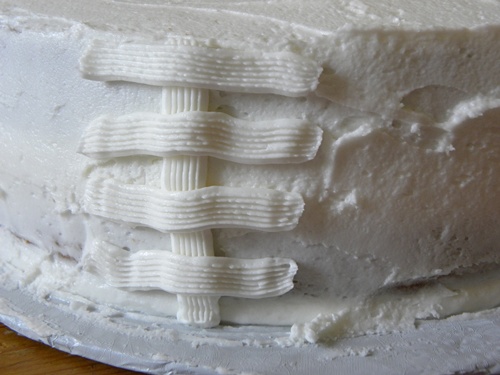 I used a Wilton Basket #47 Decorating Tip
with a pastry bag to make the weave.
I started by putting one line of icing down the side of the cake, then I crossed over it with horizontal lines of icing, about 1 inch long, and enough room between them to add another line.
Add another vertical line of icing over the tips of the horizontal line, put more horizontal 1 inch between the original horizontal line so they look like they're coming out from under the original vertical line. Check out the photos above and below for a visual if you're confused. It's a little confusing to get started, but once you get going it's really easy. Just repeat the process all the way around the cake.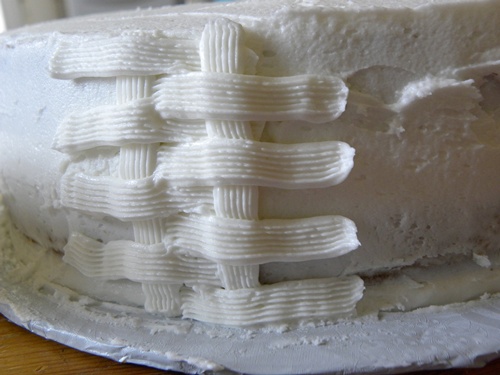 I used a Wilton Round #3 Decorating Tip
to pipe the words and the vines.
I used fondant, a small flower fondant press, and round pearlescent decors to make the flowers. I tried to make my flowers from icing, but it was a hot day and the icing just would not cooperate! I didn't want to run out of time so I just went with some simple fondant flowers instead.
I used a Wilton Decorating Tip – #352
to make the leaves, and a star tip to make the border around the top and bottom.
The cake turned out OK, I just wish I would have had more time to decorate!