I've been toying with the idea of baking pumpkin blondies for a couple years now. This week I decided I would give them a try, so I dug in and browsed through quite a few recipes, both online and off. In the end I decided to combine a simple blondie recipe, with a pumpkin pie recipe and see what happened.
The pumpkin blondies turned out great, I baked them in a 9×9 baking dish, but I wish I would have used a 9×13 for a thinner bar. I made the blondies and the pumpkin separate, then swirled them together in the baking dish.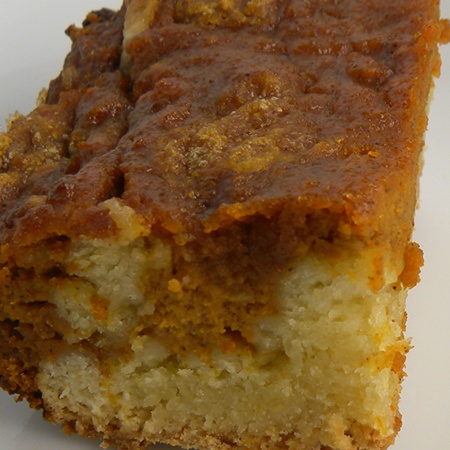 Pumpkin Pie Blondies
First up the Blondies:
2 teaspoons baking powder
1/2 cup butter, melted
2 eggs
2 cups packed brown sugar
1 teaspoon vanilla
2 cups flour
Preheat the oven to 350`F.
Lightly coat a 9×9 baking dish with no stick cooking spray (again I think a 9×13 would work better).
In one mixing bowl mix together the flour and baking powder.
In another bowl cream together the melted butter, vanilla, sugar, and eggs.
Add the flour slowly to the butter and egg mixture.
Spread in the bottom of your baking dish.
The Pumpkin Pie Layer:
1~ 15 oz can of pure pumpkin
3/4 cup sugar
1 tsp salt
1 tsp cinnamon
1 tsp pumpkin pie spice
2 large eggs
Mix all the ingredients together, then pour them over the top of the blondie base.
Use a butter knife to swirl the pumpkin layer into the blondie layer. Just run the knife through the whole mixture once or twice to fold the two lightly togethe
Bake at 350`F for 50 minutes to an hour, or until it is done all the way through.
It turned out to be a wonderful fall combination, the blondies are thick and chewy with wonderful flavor. I think I'll definitely make them again, or maybe try the combination in mini muffin pans to make a small tartlet.