This post may contain affiliate links which means, at no cost to YOU, I may receive compensation if you purchase something by clicking on a link in this site.
A black and white bedroom can be quite chic and elegant. It can also have a "homey" feel. Whichever you prefer in your bedroom, a black and white bedroom can give you that feel. Here are a few black and white bedroom ideas.
Walls – Paint the walls in your bedroom a crisp white. To add black to the walls, consider adding vertical stripes in black. This will add visual interest and texture, as well as making your ceilings look taller. You can also add a black border towards the top of your walls to draw the eye upward. Or, you can use black paint to create a chair rail a couple of feet above the floor. Be careful if you choose to paint an entire wall black. This can make your bedroom appear much smaller and, should you grow tired of the color, black paint on an entire wall can be difficult to repaint.
Bedding – Bedding can add texture, depth and visual interest to your black and white bedroom. Black throw pillows and bed skirts make wonderful accents. Use different types of fabrics and fabric textures for all of your bedding. Do not be afraid of prints. They can help create a beautiful black and white bedroom.
I love these 3 black and white bedding sets! They're a great addition to any black and white bedroom ideas you decide to incorporate.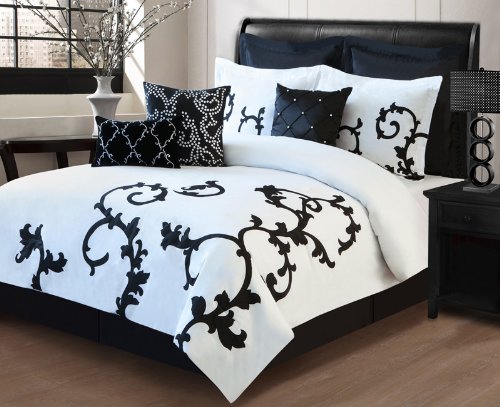 Duchess Black and White Bed in a Bag Set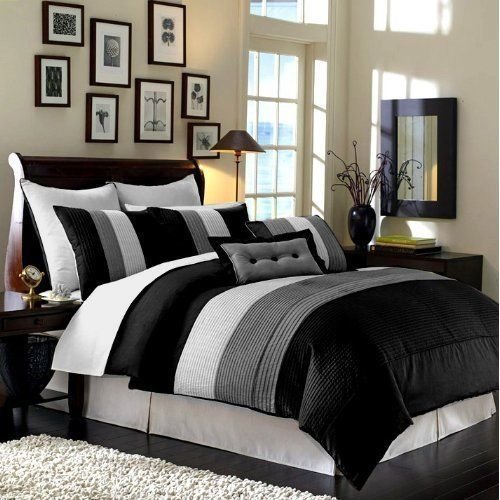 Chezmoi Collection Striped Comforter Set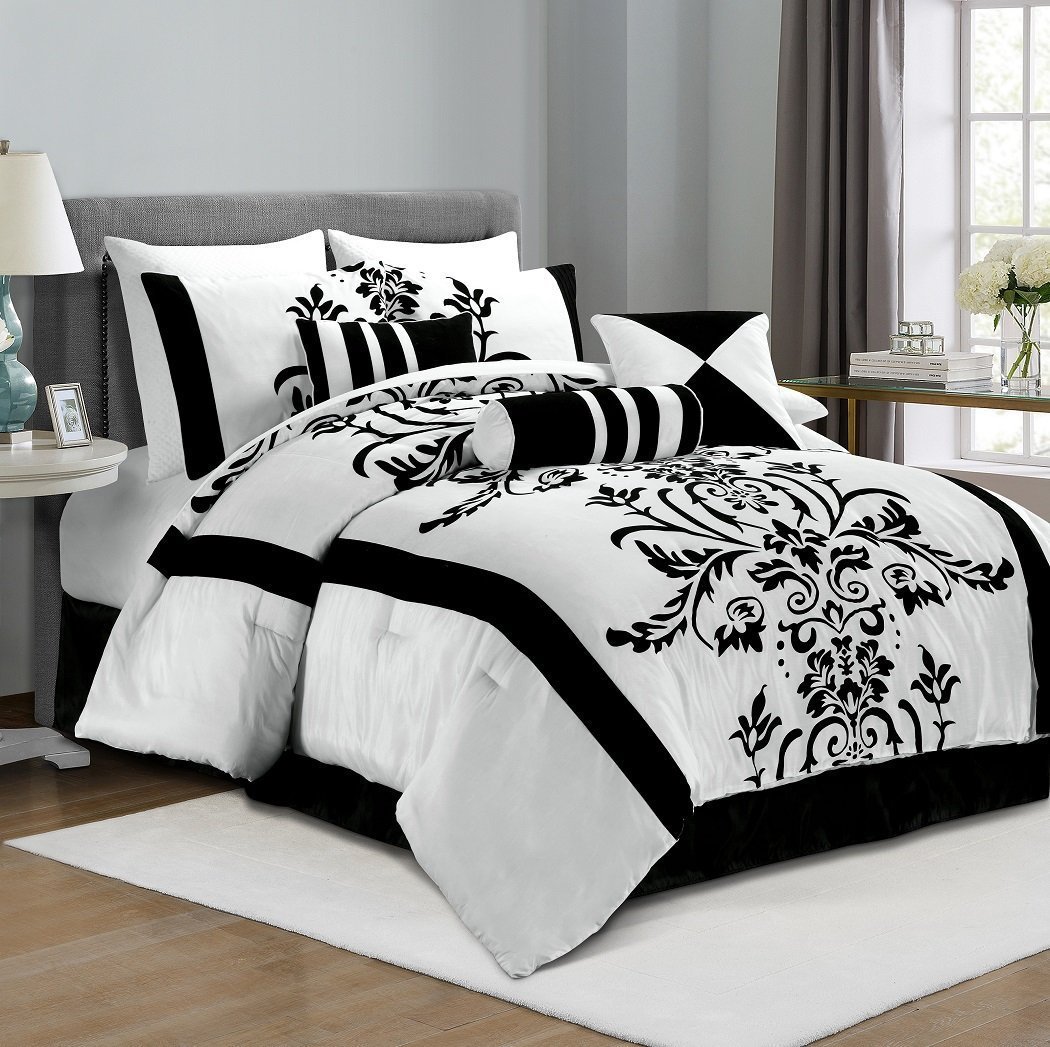 Black and White Floral Bedding Set
Accessories – Black and white accessories can make your bedroom as beautiful as possible. Frame black and white photos in black frames to hang on your white bedroom walls. Black vases with white flowers such as lilies and roses are great additions to a black and white bedroom. Use black and white tile to decorate your headboard.
Draperies – Black curtains against white walls look lovely. Textured fabrics for your draperies will depth to your bedroom. Use black lace as a valance. Sheer black draperies will help to keep your curtains from looking bulky. And, black curtains, including sheer fabrics, will help keep the sun out of your bedroom on those mornings you want to sleep in.
A black and white bedroom can be taken in several different directions, such as elegant or homey. Not matter what "feel" you want for your black and white bedroom, these black and white bedroom ideas will help you achieve it.
Looking for more bedroom ideas? Check these out:
Cute Owl Bedding Sets For Kids