Fall is such a fun time to create fall backyard displays, with all the fall colors, and textures coming into store, farmer's markets, and even in your own backyard. You can create a unique look by combining several things together into one display, or repeat one theme throughout your display. Here are a few fall backyard decorating ideas to help you get started. These fall displays are great for fall or Halloween parties, a fall hayride, even a fall cookout with friends or family, or just because in your backyard or on the front porch.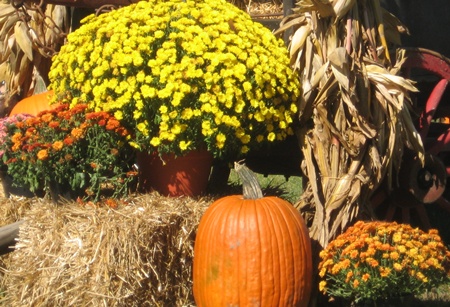 What can you put in a fall backyard display? Many fall decor items don't cost much. You can easily create a fall backyard display on a budget if you need to. You may even be able to get some of these things for free, or just a couple dollars. Here are a few things to consider for your fall backyard displays:
Mums~ Their blooms are spectacular in the fall, so you should definitely consider them for your fall decorations.
Pumpkins~ Painted or unpainted, carved or blinged out, they are a great focal point for your fall display.
Leaves~ Use them as stuffing for a scarecrow. You can also fill a burlap bag and let it overflow in the background of your display. Sprinkle a few bright and colorful leaves into your display.
Colorful gourds~ Are a great addition to pumpkins or mums in your fall display. Gourds come in all shapes and sizes which means you can add them to both large and small displays. You can also pick the colors that coordinate with the other items in your display.
Hedge Apples~ Are another unique and interesting addition to fall displays. They may even add the added benefit of repelling fall spiders!
Straw~ You can usually pick up a bale of straw for a few dollars from a local farmer, or local farmers market, or farm store.
Scarecrows~ You can use fall items to create your own scarecrow or you can purchase one from a local farm, handmade store, or find on scarecrows on Amazon.
Corn Shocks~ You might be able to get a few stocks of corn from a local farmer for a
A large container or backdrop, like a large barrel, small wagon, wheel barrow, or an old wood fence, can help bring the whole display together.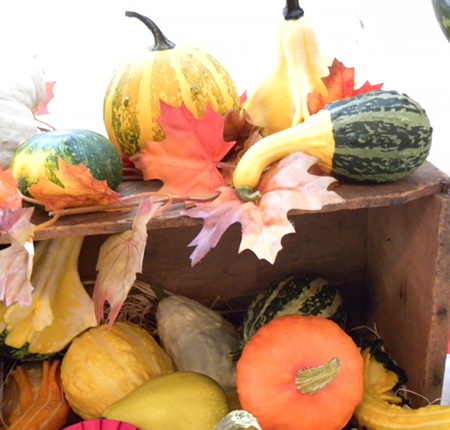 Fall Backyard Display Additional DIY Ideas
An old wooden box with some straw pumpkins and gourds can make a cute fall display for a porch or entryway.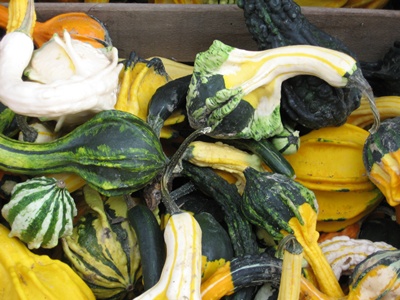 A large backyard fall display can be a great background for fall photos, or a great backdrop for fall entertaining.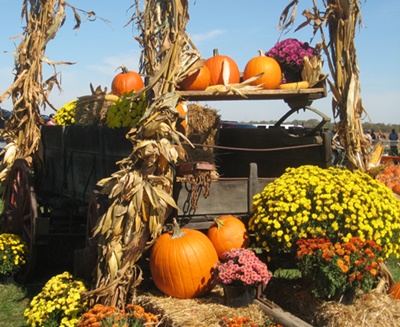 For fall decorations for entertaining you'll want to add straw bales for seating. You can use old sawhorses and boards for tables with plenty of corn shocks to cover the legs. Keep your fall backyard displays rustic and fall with plenty of reds, oranges, yellows, and browns.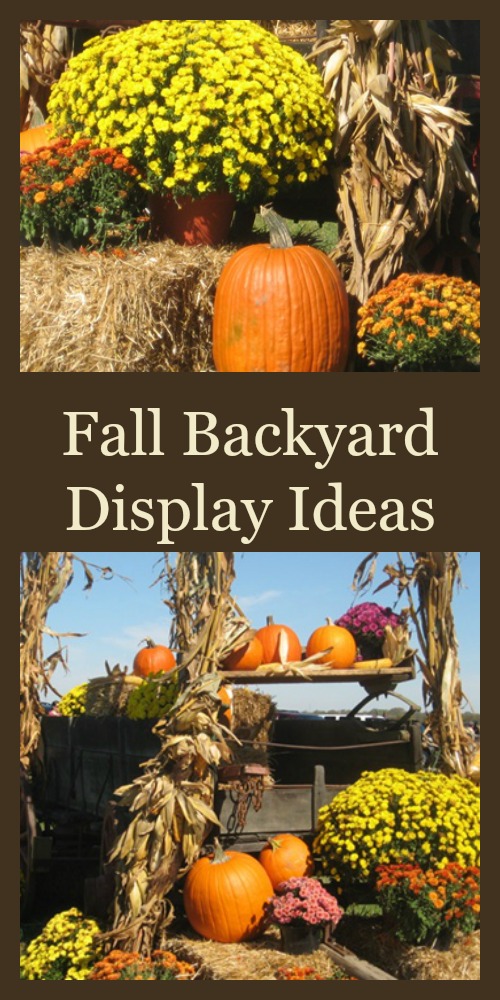 Looking for more fall inspiration? Check out these ideas:
Add Fall Color to your Home Decor
Gourds and Candles Fall Centerpiece