I bought a spiral cutter a while back from Amazon, and I'm in love! One of my favorite things to make is baked sweet potato spiral fries, yum! With the spiral cutter they're super easy to make! I don't have to slice and dice forever just for a few fries. I just peel my sweet potato, hook it up top and bottom to the spiral cutter and spin the handle! I use the larger spiral cut size to make my spiral sweet potato fries.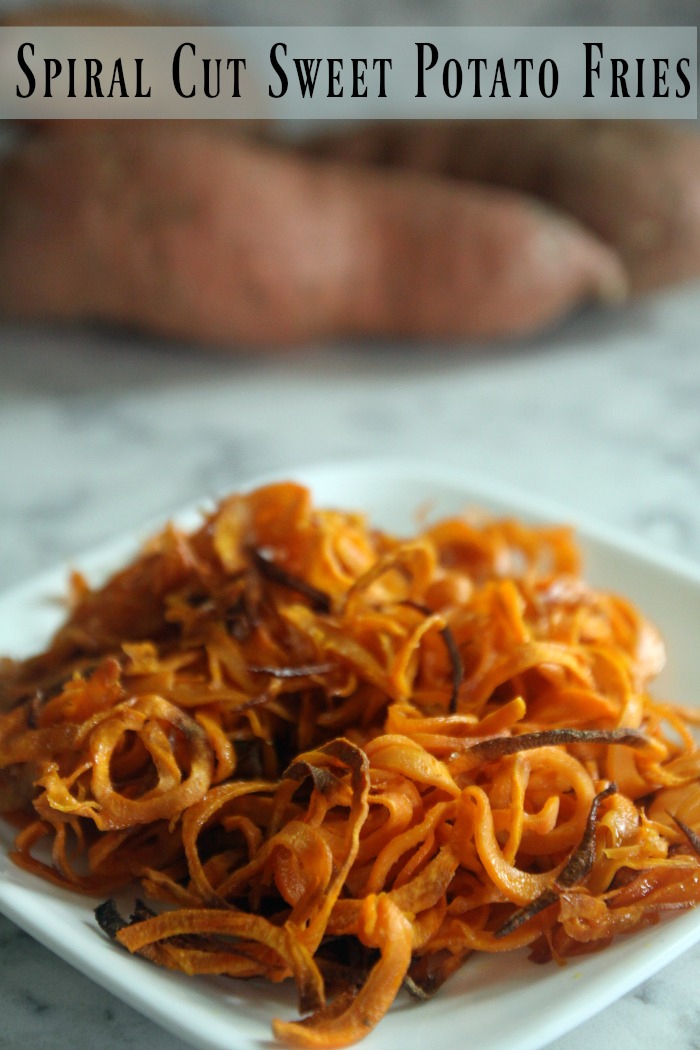 Making Baked Sweet Potato Spiral Fries:
The cup included with the spiral cutter holds 1 or 2 sweet potatoes, depending on their size. Once I spiral cut the sweet potatoes, I toss them in about 1 teaspoon of avocado oil. I love Primal Kitchen Avocado oil, but you can use your favorite. If you want a sweeter taste coconut oil can work too.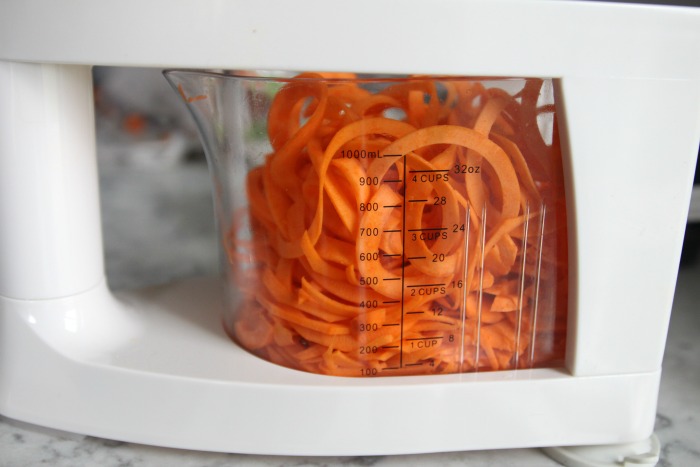 I spread the spiral cut sweet potato fries out on a cookie sheet covered with parchment paper. I sprinkle the sweet potato fries with sea salt, and that's it.
Then I bake them in the oven at 375` F for about 20 minutes, or until the fries start to turn dark on the edges. If the outside fries are cooking too quickly I shift them around with a fork or spatula after about 10 minutes to help them cook evenly. I still try to keep them as spread out as possible. I just shift some of the outside fries to the inside. Then I shift the inside fries to the outside edges so they'll cook evenly.
I like my baked sweet potato spiral fries warm from the oven with a turkey burger or chicken but you can serve them with whatever you like. They're also good loaded with a little taco meat, cheese, and sour cream! Delicious!
I work from home, so it's super quick and easy to spiral cut one sweet potato into fries just for myself. I can bake them while I'm working. When I'm cooking for the family I'll spiral cut 3 or 4 sweet potatoes and spread them on a large cookie sheet or bar pan lined with parchment paper. My mother in-law gave me a big box of pre cut parchment paper squares a few years ago, which is the perfect size for this! I just pull one out and line the cookie sheet. Clean up is super easy!
Baked Sweet Potato Spiral Fries
Ingredients
1

large or 2 small sweet potatoes

1

tbsp

avocado oil

1/2

teaspoon

sea salt
Instructions
Preheat the oven to 375`F.

Peel then spiral cut the sweet potatoes.

Toss with avocado oil.

Spread onto a parchment lined cookie sheet.

Sprinkle with sea salt.

Bake at 375 for about 20 minutes or until some of the fries start to turn brown.

For evener cooking toss the sweet potato fries after about 10 minutes and spread them out evenly on the cookie sheet again.

Enjoy hot from the oven!
Looking for more easy recipe ideas? Check out these Pumpkin Spice Roasted Chickpeas.